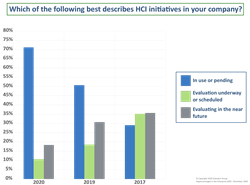 "HCI is a go-to infrastructure for companies of all sizes, providing a flexible, agile and powerful solution to consolidate the data center."
BOULDER, Colo. (PRWEB) December 08, 2020
Hyperconverged Infrastructure (HCI), once a solution for small and mid-sized companies, remote offices or VDI, has matured to become an indispensable part of the overall data center mix for even the largest enterprises. Evaluator Group's new research study, "Hyperconverged in the Enterprise 2020", shows that databases, typically the most critical applications in the data center, have become the #1 use case for HCI.
In the fourth year of this Evaluator Group Study, it is clear that using HCI for a range of applications has become the rule, not the exception. Over the past three years we have seen HCI evolve from a solution companies are evaluating to one that over 70% have in production or have a deployment pending.
Being able to consolidate and simplify infrastructure is the primary driver for HCI projects, most of which are being deployed to replace existing infrastructure, not to support net-new applications. Some key findings of the "Hyperconverged in the Enterprise 2020" study are:

Lifecycle Management (LCM) is the most important new feature
VMware vSAN is the top HCI choice for the fourth year running, followed by Nutanix, Cisco HyperFlex, Dell EMC VxRail and HPE SimpliVity
HCI is a favored solution for private and hybrid cloud infrastructures, with remote backup and disaster recovery being the most prominent reasons to connect HCI to the public cloud
Vendor lock-in, inflexible scaling and cost were the biggest drawbacks to HCI adoption
"Where enterprise IT used to ask: "where to deploy HCI?", they're now asking "where else?", said Eric Slack, Sr. Analyst at Evaluator Group. "HCI is a go-to infrastructure for companies of all sizes, providing a flexible, agile and powerful solution to consolidate the data center."
As this technology continues to evolve, there is increased demand for improved management functionality, integrated data protection and integrated disaster recovery features. HCI has also become a primary on-premises solution for hybrid cloud infrastructures.
This year's study shows this evolution by comparing results from past years, revealing insights into where and why HCI is being adopted, what its strengths and weaknesses are and what users expect from this technology moving forward. We explored which advanced technology features were most desired and what trends are for containers / Kubernetes, edge computing, integrated backup functionality and public/private/hybrid cloud connectivity.
Evaluator Group's new research study was created by conducting an incisive survey and in-depth interviews with IT professionals from enterprise-level companies where an HCI solution was in use or in evaluation. Interview respondents represented differing responsibility levels, from executive to operational administrator, and were distributed across all major industry segments, from Financial and Government to Healthcare, Tech and Manufacturing.
For more information and a free study overview that includes the report's full Table of Contents and List of Figures, click here.
Evaluator Group's coverage of integrated infrastructure technologies includes product reviews and comparisons of converged and hyperconverged solutions. For a full list of products and reports, please visit the Evaluator Group website.
About Evaluator Group
Evaluator Group Inc., an Information management and data storage analyst firm, has been covering systems for over 20 years. Executives and IT Managers rely upon us to help make informed decisions to architect and purchase systems supporting their data management objectives. We surpass the current technology landscape by defining requirements and providing an in-depth knowledge of the products as well as the intricacies that dictate long-term successful strategies. Press Contact: For more information about Evaluator Group contact Nick Waterhouse at 303.221.7867 x1008 or Nick(at)evaluatorgroup(dot)com.