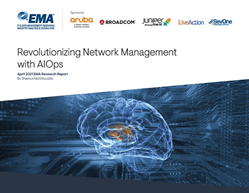 This research demonstrates that AIOps is more than just a marketing buzzword.
BOULDER, Colo. (PRWEB) April 20, 2021
Enterprise Management Associates (EMA™), a leading IT and data management research and consulting firm, today announced the release of its new research report, titled "Revolutionizing Network Management with AIOps" and authored by Shamus McGillicuddy, vice president of research, covering network management at EMA.
AIOps is an abbreviation of the phrase "artificial intelligence for IT operations." AIOps combines machine learning and artificial intelligence algorithms with big data and other technologies to enhance IT management. This technology can find patterns in IT data, infer insights and draw conclusions from those patterns, and communicate this knowledge to IT management.
EMA has observed robust AIOps development within the networking industry over the last few years. Network infrastructure vendors and network management vendors have developed homegrown AIOps technologies to enrich their solutions by training them specifically for network management use cases. Moreover, EMA research has detected strong interest among enterprise IT organizations in using this technology.
Based on a survey of 309 IT professionals with significant AIOps experience, this new research explores how the network infrastructure team in particular is using or planning to use AIOps for network management use cases.
Ninety-one percent of the subject matter experts in this research believe that AIOps-driven network management can lead to better business outcomes for their enterprises. Additionally, nine out of ten believe that AIOps can address many of the shortcomings of their existing network management solutions. They are also enthusiastic about their ability to automate much of their networks and to streamline operations with this technology.
"This research demonstrates that AIOps is more than just a marketing buzzword," said McGillicuddy. "IT organizations expect significant returns on their investments in this technology. Enterprises that apply AIOps to networking are able to optimize their infrastructure, reduce operational overhead, and improve security. There are several steps they must take, though, to ensure a successful implementation. Our new research identifies several best practices for evaluating, implementing, and using AIOps for network management."
Enterprises need to be aware, however, that AIOps-driven network management has plenty of room for improvement. Only 30% of the enterprises in this survey have been fully successful with this technology so far. They want to see vendors advance and mature their capabilities, particularly around predictive analysis, root-cause analysis, network baselining, and anomaly detection. Ultimately, network management organizations have a lot of work ahead of them if they want to realize the full potential of AIOps.
This independent research report was sponsored by Aruba (a Hewlett Packard Enterprise company), Broadcom, Juniper Networks, LiveAction, and SevOne.
A detailed analysis of the research findings is available in the report, "Revolutionizing Network Management with AIOps."
Highlights from the report will be revealed during the free April 27 webinar, "Revolutionizing Network Management with AIOps."
About EMA
Founded in 1996, EMA is a leading industry analyst firm that provides deep insight across the full spectrum of IT and data management technologies. EMA analysts leverage a unique combination of practical experience, insight into industry best practices, and in-depth knowledge of current and planned vendor solutions to help their clients achieve their goals. Learn more about EMA research, analysis, and consulting services for enterprise line of business users, IT professionals, and IT vendors at https://www.enterprisemanagement.com