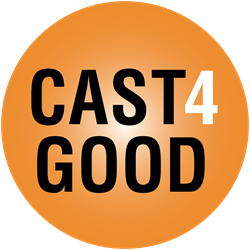 We are thrilled with the success of Tuesday night's launch event with the cast of 'Roswell, New Mexico.' We could not have picked a better cast to join us in supporting Feeding America. We're already hard at work planning future Cast4Good online chats to benefit other worthy causes.
NEW YORK (PRWEB) April 23, 2020
Cast4Good was founded by Todd Krim, President & CEO of The Krim Group, as a creative new fundraising initiative in response to the ongoing global COVID-19 crisis, but will soon be expanded to support a wide range of charities and causes including climate change, humanitarian relief, social justice reform and gender equality. With the advent of social distancing and so many individuals turning towards entertainment for comfort and solace, Cast4Good unites cast members from beloved television series and films for exclusive one-hour moderated discussions and fan Q&As that audiences globally can watch and participate in from the comfort of their own homes – all while raising funds for charity and fostering a sense of community during these unprecedented times. Proceeds raised from the ticket sales are donated to the charity organization being highlighted.
The debut Cast4Good event took place on Tuesday, April 21st with the cast of The CW's "Roswell, New Mexico," as well as the creator and producer Carina Adly MacKenzie. Immediately following the panel, fans had the opportunity to have 1-on-1 video chats with select cast members via the digital platform, Looped. Proceeds raised from this inaugural event are being donated to Feeding America® and their COVID-19 Response Fund, a national food-and-fundraising effort to support people facing hunger and local food banks who help them.
"We are so thrilled with the success of last night's launch event with the cast of 'Roswell, New Mexico.' We could not have picked a better cast to join us in our 'give back' efforts and the fan engagement was through the roof. We're already hard at work planning future 'cast chats' to benefit other worthy causes," said Cast4Good founder Todd Krim.
For media distribution, please find the following link to access a highlight reel from the launch event.
For more information on Cast4Good and to join the online community, please visit http://www.Cast4Good.com.
ABOUT TODD KRIM AND THE KRIM GROUP:
A lawyer-turned-charity matchmaker, Todd Krim, left his successful law practice to pursue a higher calling. Over the past decade Todd, known in Hollywood circles as "Mr. Charity," has become the entertainment industry's go-to person for charities looking to connect with celebrities and vice versa. He's fostered partnerships between countless nonprofits and celebrities, advised for-profit companies on social impact campaigns, and produced widely publicized charity events including Richard Branson's Venezuela Aid Live benefit in Colombia and the United Nations' "Play It Out" Music Festival in Antigua. He has been featured in major magazines and media outlets including Variety, The Hollywood Reporter, USA Today, The New York Times, The Chronicle of Philanthropy, Real Leaders Magazine and Global Citizen Magazine. His most recent project, the "World Is In Our Hands" social media campaign he launched with director/photographer Justin Wu, supports the UN Environment Programme's ActNow campaign and features Antonio Banderas, Joaquin Phoenix, Susan Sarandon, Rainn Wilson, Evan Peters, Maggie Q and Rosario Dawson, to name a few. Visit http://www.TheKrimGroup.com.
ABOUT FEEDING AMERICA®:
Feeding America® is the largest hunger-relief organization in the United States. Through a network of 200 food banks and 60,000 food pantries and meal programs, we provide meals to more than 40 million people each year. Feeding America also supports programs that prevent food waste and improve food security among the people we serve; educates the public about the problem of hunger; and advocates for legislation that protects people from going hungry. Individuals, charities, businesses and government all have a role in ending hunger. Donate. Volunteer. Advocate. Educate. Together we can solve hunger. Visit http://www.FeedingAmerica.org.
ABOUT LOOPED:
Looped is a platform where fans connect virtually with their favorite talent - anytime and anywhere in the world. Talent can go live for their fans, and even upgrade fans to VIP for access to a virtual meet & greet. Visit http://www.LoopedLive.com.
ABOUT ROSWELL, NEW MEXICO:
Roswell, New Mexico is from Warner Bros. Television and CBS Television Studios, in association with Amblin Television and Bender Brown Productions, with executive producers Carina Adly MacKenzie (The Originals), Christopher Hollier (Once Upon a Time), Julie Plec (The Vampire Diaries), Darryl Frank and Justin Falvey (The Americans), Lawrence Bender (Pulp Fiction) and Kevin Kelly Brown (Roswell). Roswell, New Mexico airs on The CW on Mondays at 9:00PM.
CAST4GOOD:
Website: http://www.Cast4Good.com
Instagram: @Cast4Good
Twitter: @Cast4Good
Facebook: @Cast4Good
Official Hashtag: #Cast4Good
MEDIA CONTACTS:
Jessica Sze
Shelter PR
E-mail: JessicaS@shelterpr.com
Molly Stead
Shelter PR
E-mail: MollyS@shelterpr.com