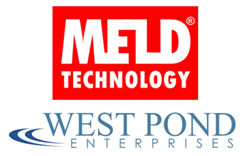 VIPs utilizing MELD-patented technology at the Russell Athletic Bowl and Capital One Bowl in Orlando, responded with sheer amazement at the experience.
Sunnyvale, CA (PRWEB) June 10, 2014
MELD Technology, and its development partner West Pond Enterprises, announce a new product series that will change how fans view live events. No more missing the big play or last lap while at the concession stand, or Tiger Woods on the 18th hole while Phil Mickelson is on the 9th! Instead, on-site fans with smartphones can watch game video, control instant replays, see multiple camera views, and check live statistics from anywhere in the facility. MELD's infrastructure services provide high-quality multi-media distribution for live entertainment venues that allows audiences attending an event to experience live video on a wide variety of bring-your-own (BYOD) mobile devices.
At the core of this new product series is the MT300AVF white space transmitter and West Pond Enterprises stream management technology that permits multiple HD channels to be accessed on mobile handsets. The MT300AVF transmitter, operating in compliance with FCC TVWS rules, can cover the entire venue and sets up in minutes to send multiple sub-channels of content in-venue over a single white space broadcast to an unlimited number of MELD receivers. The MELD (MTRXm) receivers are tiny, inexpensive brand-able tuner dongles which easily attach to Apple (IOS) and Android smartphones for 3-4 hours of uninterrupted multi-channel viewing. With television whitespace, the use of an intermittent Wi-Fi connection for video distribution is replaced with multiple, continuous, and high-quality HD video streams over television multicast.
Entertainment venue owners can exponentially intensify the experience for their fans by enabling them to view the action they otherwise wouldn't see from their seat. For the 2013-2014 college football bowl season, mobile innovator imediaReach, LLC, was called upon by the event organizers to deliver a unique, engaging, mobile-based fan experience for VIPs. This trial of imediaReachTV™, put HDTV streaming game broadcasts and replays on users' smartphones, a capability that can now be expanded to other venues. Gary Bonner, Chief Marketing Officer for imediaReach®, stated that "VIPs utilizing MELD-patented technology at the Russell Athletic Bowl and Capital One Bowl in Orlando, responded with sheer amazement at the experience." Whether a one-day event or an entire season long, the MELD products put control in the user's hands and smiles on their faces.
MELD will be offering the West Pond technology as part of the in-venue product series. "West Pond has worked with MELD to develop complimentary white space products for the past two years" said Steve Hastings, President of West Pond Enterprises. "We believe that in-venue Pico-broadcasting offers fans an experience that is significantly better than what the fan can get on their couch at home," said Hastings.
About MELD Technology, Inc.
MELD Technology, Inc. (MELD) is an Infrastructure Service Provider for high-quality multi-media in-venue. All MELD products are proudly designed in the USA. The company is privately held and headquartered in Sunnyvale, California. MELD's products are protected by US Patent numbers 8,063,996, 8,341,678, 8,654,262 with other patents pending. For more information, contact us at (408) 242-5469 or visit http://www.meldtech.com.
About West Pond Enterprises, LLC.
West Pond Enterprises, LLC provides creative connectivity solutions which resolve communications issues in challenging environments. Specializing in DTV white space technology, West Pond Enterprises has developed the FlexStream suite of products to address the on-site communication needs of the digital white space industry. For more information, visit http://www.westpond.com.
About imediaReach, LLC
imediaReach® is a marketing company engineering breakthrough mobile solutions to promote, advertise expand and retain business for its clients and brands. The company is based in Orlando, Florida, and proudly distributes MELD products nationwide. For more information, visit http://www.imediareach.com.