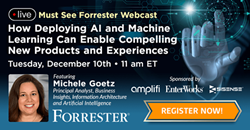 STERLING, Va. (PRWEB) December 05, 2019
EnterWorks, a leading provider of Master Data Management (MDM) and Product Information Management (PIM) solutions, has announced a live webcast event featuring Michele Goetz, Principal Analyst, Business Insights, Information Architecture and Artificial Intelligence, at Forrester. The webinar, "How AI, Machine Learning and Data Strategy Can Enable Compelling New Products & Experiences," will take place on Tuesday, December 10, 2019 from 11:00 am to 12:00 pm EST. It is sponsored by EnterWorks; Amplifi, an information management consultancy that helps the world's leading brands, retailers and manufacturers to harness and unleash the power of their data; and Sisense, a business intelligence software and analytics platform.
The webinar will inform participants how artificial intelligence, machine learning and data strategy can enable compelling new products and experiences, and how deploying AI and ML depends on effective master data and its proper governance. According to Forrester's Goetz, many companies have initiated AI and ML projects only to find that they have not established the foundation for success that comes with implementing a comprehensive data management strategy and the platforms needed to make replicable and scalable success possible. She will speak on how consistent, valid and trusted data is required for machine learning technologies to be able to recognize patterns and tune a company's operating model to derive holistic benefits from such investments. Finally, during the webcast, Goetz will introduce the fundamental requirements for AI and ML deployments based on real-life successes and failures within the industry.
To register for the webinar, please visit: https://www.enterworks.com/events/deploying-ai-and-machine-learning/.
About Michele Goetz
Michele Goetz is Principal Analyst, Business Insights, Information Architecture and Artificial Intelligence, at Forrester. She serves enterprise architects, chief data officers, and business analysts trying to navigate the complexities of data while running an insight-driven business. Her research covers artificial intelligence technologies and consultancies, semantic technology, data management strategy, data governance, and data integration. Goetz has over 20 years of experience in data management, business intelligence, and analytics. Prior to joining Forrester, she was the VP of marketing at Trillium Software, launching data governance and quality solutions to global enterprises across a variety of industries, including banking, insurance, pharmaceutical, consumer, and energy. Learn more here: https://www.forrester.com/Michele-Goetz.
About EnterWorks®, a Winshuttle Company
The EnterWorks Multi-Domain Master Experience Management (MxM) solution enables companies to acquire, master, manage, govern, and transform multi-domain experiences across their value chain into a competitive advantage for organizations of all sizes – from SMBs to global enterprises. Solutions offered include: Master Data Management, Product Information Management, Digital Asset Management, Golden Record Management, Data Stewardship, MDM Workflow & Business Process Enablement, Data Governance, Data Synchronization, Syndication & Integration, Digital Asset Management, Print Automation, and Self-Service Portals.
EnterWorks is highly ranked by various research analysts and used by industry leaders such as: Ariens, Big Rock Sports, CPO Commerce, Creative Converting, Darigold, Fender Musical Instruments, Guthy-Renker, Hearth & Home Technologies, HON Furniture, Interline Brands, Johnstone Supply, Mary Kay, Mercer, Orgill, Publishers Clearing House, Restoration Hardware, Strategic Market Alliance, HP Hood, and W.B. Mason. EnterWorks is funded by Black Dragon Capital, LLC, a growth-oriented venture fund focused on investment opportunities in e-commerce, sports and media, and financial technologies, with significant international domain experience. Learn more at http://www.enterworks.com/.