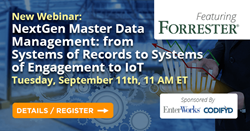 STERLING, Va. (PRWEB) September 07, 2018
WHAT: EnterWorks, a leading provider of Master Data Management (MDM) and Product Information Management (PIM) solutions, has announced a live webinar event, "NextGen Master Data Management – From Systems of Records to Systems of Engagement to IoT." The webinar will explore the evolution of MDM tooling and the criteria and MDM usage scenarios to help companies take business advantage and drive bottom line improvement from a re-imagined MDM environment.
WHO: Webinar presenter is Henry Peyret, Forrester Principal Senior Analyst Serving Enterprise Architecture Professionals.
WHEN: The live event will take place on Tuesday, September 11 at 11:00 am EST
REGISTRATION: Please sign up for the webinar in advance here.
DETAILS: The webinar is sponsored by EnterWorks and CODIFYD. The first-generation tooling of Master Data Management supported back office System of Records and Data Warehouses, focusing on data quality improvements in financial consolidation and reporting as well support processes instrumented by system of records. As an omnichannel generation of MDM tooling emerged, it expanded its role to Systems of Engagement involving greater independence and agility. In particular, support for Customer Experience Management meant much larger, yet agile, stores of customer/product information, while sometimes relaxing data accuracy constraints. NextGen MDM tooling accelerates the shift to accessing large data stores arising from IoT pervasiveness. MDM should reference all IoT sensors associated to a customer, but not necessarily storing it all.
About EnterWorks Holding Company
EnterWorks® Master Data Management (MDM) and Product Information Management (PIM) solution enables companies to acquire, manage and transform product information into persuasive content that drives higher sales and new competitive strengths through e-commerce Web, mobile, print and various electronic channels. Services offered include: Master Data Management, Product Information Management, Dynamic Data Modeling, Workflow & Collaboration, Syndication & Publishing, Digital Asset Management, Geographic Localization, Portal Content Exchange, and Digital Channel Accelerators.
EnterWorks is highly ranked by various research analysts and used by industry leaders such as: Ariens, Big Rock Sports, CPO Commerce, Creative Converting, Darigold, Fender Musical Instruments, Guthy-Renker, Hearth & Home Technologies, HON Furniture, HP Hood, Interline Brands, Johnstone Supply, Mary Kay, Mercer, Orgill, Publishers Clearing House, Restoration Hardware, Strategic Market Alliance, US Foods, and W.B. Mason. Learn more at http://www.enterworks.com.