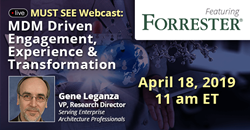 STERLING, Va. (PRWEB) April 11, 2019
EnterWorks, a leading provider of Master Data Management (MDM) and Product Information Management (PIM) solutions, has announced a live webinar event featuring Forrester Vice President and Research Director, Gene Leganza, and leader in how enterprises can build and optimize through insights. The webinar, "MDM-Driven Engagement, Experience & Transformation," will take place on Thursday, April 18, 2019 from 11:00 am to 12:00 pm EST. It is sponsored by EnterWorks and Infoverity, a leading systems integrator and global provider of MDM and PIM strategy and implementation, data governance and analytics, managed services and hosting solutions.
The webinar will inform participants how to leverage NextGen MDM as a key component to optimizing insights-driven enterprise for growth and profit. As second and third generation MDM platforms become increasingly important for business performance, the data management challenge has shifted from back-office control of data to driving "front office" revenue with Systems of Engagement and Systems of Insight. This shift comes as companies also recognize the need to create compelling experiences across commerce channels, for both external and internal customers. Further, according to the EnterWorks team, "data storytelling" becomes increasingly important in revenue generation through enabling agile, digital responses to changing customer needs across vertical ecosystems.
The complexity of serving front-office, experience led, and ecosystem-oriented markets is aided by emerging technologies in Artificial Intelligence, Machine Learning and IoT as these tools can help business decision-makers make better choices in scaling businesses. This webinar is exploring the evolution of MDM and related emerging technologies to help companies take business advantage and drive bottom line improvement.
To register for the webinar, please visit: https://www.enterworks.com/events/webinar-mdm-wave-insights-landscape/
About Gene Leganza
Learn more here.
About EnterWorks®, a Winshuttle Company
The EnterWorks Multi-Domain Master Experience Management (MxM) solution enables companies to acquire, master, manage, govern, and transform multi-domain experiences across their value chain into a competitive advantage for organizations of all sizes – from SMBs to global enterprises. Solutions offered include: Master Data Management, Product Information Management, Digital Asset Management, Golden Record Management, Data Stewardship, MDM Workflow & Business Process Enablement, Data Governance, Data Synchronization, Syndication & Integration, Digital Asset Management, Print Automation, and Self-Service Portals.
EnterWorks is highly ranked by various research analysts and used by industry leaders such as: Ariens, Big Rock Sports, CPO Commerce, Creative Converting, Darigold, Fender Musical Instruments, Guthy-Renker, Hearth & Home Technologies, HON Furniture, Interline Brands, Johnstone Supply, Mary Kay, Mercer, Orgill, Publishers Clearing House, Restoration Hardware, Strategic Market Alliance, HP Hood, and W.B. Mason. EnterWorks is funded by Black Dragon Capital, LLC, a growth-oriented venture fund focused on investment opportunities in e-commerce, sports and media, and financial technologies, with significant international domain experience. Learn more at http://www.enterworks.com.