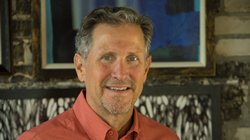 We want to ensure the best and brightest students stay here in the state, and Florida Poly plays a big part in that.
LAKELAND, Fla. (PRWEB) February 27, 2020
Renowned Florida entrepreneur Tom E. Wallace has been named commencement speaker for Florida Polytechnic University's spring 2020 graduation on May 3. Wallace said he's excited with this new role because the University is exactly what the state was lacking to elevate its tech potential to the likes of Silicon Valley.
"I've been involved in building the technology ecosystem of the state for the last several decades and the one thing that we arguably were missing was a top engineering and STEM school," said Wallace, managing partner at Florida Funders, a Florida-focused investor network and online investing platform based in Tampa. "I think it's great the state figured that out and launched Florida Poly."
Wallace believes the world's next technology giant may get its start in the heart of Florida, driven by well-educated, innovative, forward-thinking young people like those that Florida Poly graduates.
"There's no reason the next Google or the next Facebook can't come out of Florida," Wallace said.
He said Florida needs both talent and capital to transform its tech ecosystem to the level of Boston, Massachusetts, and San Francisco, California. His company, Florida Funders, is focused on funding early-stage tech businesses, helping them grow from startups to successful enterprises.
"Florida Poly obviously is working on the talent side of it," he said. "We want to ensure the best and brightest students stay here in the state, and Florida Poly plays a big part in that."
Wallace's passion for entrepreneurship began early in his life. He started his first company at age 23 and has focused his time and energy on starting, growing, and building businesses ever since. For the last 25 years, he's been an active tech angel investor, supporting businesses at an early stage, when traditional investors shy away.
His company's focus aligns with the University's vision of supporting student entrepreneurs and fostering their independent business success. Florida Poly's entrepreneurship program has received international recognition and employs cutting-edge software to connect and support students.
"I get to go to work every day at Florida Funders and work with really bright, young, hardworking people that are trying to make a difference, and what can be more fun and impactful than that," Wallace said. "Helping an entrepreneur who is going to start a company and work on solving a problem and change the world, that's what jazzes me."
Wallace said he hopes to convey to Florida Poly graduates that the state is on the cusp of ascending to the next level of tech innovators, and they can play a big role in shaping its future.
"We are on a mission to make Florida known for technology and innovation more than tourism and oranges," he said.
Florida Poly's third four-year graduation ceremony will be at 3:30 p.m. on Sunday, May 3, at RP Funding Center, 701 W. Lime St. in Lakeland, Florida.
ABOUT FLORIDA POLYTECHNIC UNIVERSITY:
Florida Polytechnic University is accredited by the Southern Association of Colleges and Schools Commission on Colleges and is a member of the State University System of Florida. It is the only state university dedicated exclusively to STEM and offers ABET accredited degrees. Florida Poly is a powerful economic engine within the state of Florida, blending applied research with industry partnerships to give students an academically rigorous education with real-world relevance. Connect with Florida Poly.