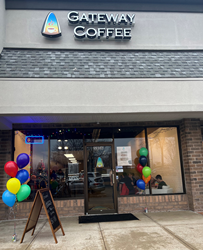 "They have a great product and great support. It took a lot of pressure off me while starting up, since I didn't have to worry about finding the correct equipment or finding the right roaster." - Greg Conrad, Owner, Gateway Coffee Company in Creve Coeur, Missouri.
COLUMBUS, Ohio (PRWEB) January 25, 2023
On December 6, 2022, lines of excited Creve Coeur coffee lovers stretched around Gateway Coffee Company at 12806 Olive Boulevard for the grand opening of the city's newest independent coffee shop.
To celebrate, Owner Greg Conrad offered medium espresso-based drinks, teas and smoothies for just $1. Festivities also included free giveaways and a ribbon cutting ceremony with the Creve Coeur Chamber of Commerce.
Roasted by award-winning Ohio coffee roaster Crimson Cup Coffee & Tea, the coffee and espresso-based beverages have received an enthusiastic welcome from Creve Coeur coffee lovers.
One Facebook reviewer praised the shop's cozy atmosphere, convenient location and expert baristas, saying she was really pleased with her white mocha with oat milk.
"Very delicious and didn't give me a sugar rush attack," she wrote. "Also, I love how they are brewing Crimson Cup coffee. I'm a Buckeye from the 614 and this gave me a sense of home feeling. Will be back!"
A former sales and marketing executive, Conrad became interested in starting his own business after struggling to find his next role. Opening his own coffee shop offered a promising career path.
"I spent a lot of time in coffee shops while job searching," he recalled. "I also had been drinking coffee from a fairly young age since I had a Brazilian grandmother who was a big coffee drinker."
He discovered Crimson Cup while exploring local coffee shops near Canal Winchester, Ohio.
"After considering opening a coffee shop, I started talking to some local shops to learn about the process."
"I stopped in 5 Bean Coffee in Reynoldsburg, Ohio. They spoke very highly of Crimson Cup and their consulting program."
The roaster's 7 Steps to Success consulting program teaches entrepreneurs like Conrad how to open a coffee shop.
This proven system is based the book, 7 Steps to Success: a Common-sense Guide to Succeed in Specialty Coffee, by Founder and President Greg Ubert.
Conrad said he was encouraged that Crimson Cup supported independent coffee shops without making them pay franchise fees or royalties.
"After being in sales, I didn't want to be locked into any contracts or have any expectations put on me from a franchiser," he said. "I wanted the freedom to change and adapt my shop as needed."
After reading Ubert's book, he connected with Crimson Cup's 7 Steps coffee shop startup consulting team. They guided him at every step, from writing a strong coffee shop business plan to designing and laying out his coffee shop, hiring and training staff, and much more.
"They have a great product and great support," he said. "It took a lot of pressure off me while starting up, since I didn't have to worry about finding the correct equipment or finding the right roaster."
Crimson Cup has helped entrepreneurs open over 300 independent coffee shops across the U.S. Some have run their shops for 20 years or more. Others have opened multiple shops.
In October, 7 Steps Project Manager and Trainer Steve Bayless spent a week at Gateway Coffee teaching Conrad and his baristas how to make terrific drinks and run the shop. He also stayed on site through opening day to ensure the grand opening went well.
A Customer Growth Rep worked with Conrad over the next few months, then returned for the Grand Opening in December.
Asked to give advice to other aspiring coffee shop owners, Conrad said, "Accept help. Crimson Cup wants to see you succeed. There are no stupid questions."
Conrad invites everyone in Creve Coeur and the greater St. Louis area to visit Gateway Coffee company.
"We serve coffee, espresso drinks, non-coffee drinks, as well as a variety of baked goods to help you start your morning on the right foot," he said.
"Whether you are commuting to the office, or just looking to get out of the house, stop by and grab one of our hand-crafted beverages."
Gateway Coffee Company is open seven days a week at 12806 Olive Boulevard. Follow the shop's Facebook page for updates about the menu, hours and events.
About Crimson Cup Coffee & Tea
Founded in 1991, Crimson Cup is at the forefront of the coffee industry. Its attentive roasting, startup support and global partnerships support the greater good of communities around the world. Among other national recognitions, the company has earned 2020 and 2017 Good Food Awards, the 2019 Golden Bean Champion for Small Franchise/Chain Roaster and Roast magazine's 2016 Macro Roaster of the Year.
Crimson Cup travels the world searching for the perfect cup – driven by meaningful relationships, honesty and a shared vision for the future. Its Friend2Farmer initiatives foster respect and decency through mutually beneficial collaboration across local and global communities.
Through its 7 Steps to Success coffee shop startup program, the company teaches entrepreneurs how to open and run independent coffee houses in their local communities. By developing a coffee shop business plan, entrepreneurs gain insight into coffee shop startup costs.
Crimson Cup coffee is available through over 350 independent coffee houses, grocers, college and universities, restaurants and food service operations across 30 states, Guam and Bangladesh. The company also owns several Crimson Cup Coffee Shops and a new CRIMSON retail flagship store. To learn more, visit crimsoncup.com, or follow the company on Facebook and Instagram.