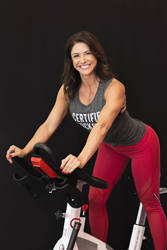 This is not a self-help book because no one can tell you how to become your best self.
ST. LOUIS (PRWEB) July 24, 2018
Michelle Marie Brady, successful business owner and transformation guru, announces the launch of her new eBook, Make the Shift. In this antithesis of a self-help book, Brady explores four aspects of the self that must be tended to in order to create authentic awareness and evolution: Body, Mind, Heart, and Spirit. She also shares the tools and methods she used to overcome significant personal obstacles in her life, including abuse, an eating disorder, and financial difficulties.
Make the Shift teaches readers how to overcome limiting and self-destructive thought patterns with insightful and practical tips. The result is a guide to help readers examine their lives through multiple lenses – mind, body, emotions, and spirit – and how to live each day as their most authentic selves.
"This is not a self-help book because no one can tell you how to become your best self," said Brady. "This book does, however, guide readers in creating their own customized tool kit that will enable the paradigm shift necessary to discover their own answers."
A lifelong musician and current owner of MMB Music, Brady draws insight from her background in music and the practice of learning through movement to explore how the deep connection between the mind and body can be harnessed to achieve personal authenticity and fulfillment. Sometimes referred to as embodied cognition¬—the idea that our brain is not the sole resource for solving problems—Brady has seen this truth unfold firsthand in both her own life and in the lives of her clients.
"My personal journey of significant weight loss and physical, emotional, and spiritual transformation in my 40s led me to an even deeper understanding of how our minds, bodies, and movement are interconnected," said Brady. "Applying these observations and my work as a fitness consultant and coach helped crystallize my discoveries into a cohesive guide for personal transformation. The result is Make the Shift."
In Make the Shift, Brady shares her vision and the proven tools she utilizes in her own personal journey to realize true metamorphosis. The clear diagrams and easy-to-use-worksheets included in the book are designed to help others discover the same groundbreaking paradigm shifts for themselves. Brady equips readers to customize her methods for themselves, recognizing that each individual's journey will be unique.
Make the Shift is now available for purchase at http://michellemariebrady.com/shop/.
###
About Michelle
Michelle Brady is a certified coach with the Institute of Eating Psychology and a lead instructor for CycleBar® in Creve Coeur and Richmond Heights, MO; she is committed to, and an expert in, achieving health and fitness goals—and helping others do so for themselves. She has overcome decades of disordered eating and mindset habits including binge eating, emotional eating, a victim mentality, low self-esteem, and a history of relationship codependence. She has transformed herself, personally, through a 70+ pound weight-loss and a total mindset realignment, as seen on PopSugar. Michelle uses proven techniques based on mind-body nutrition, and intuitive and dynamic eating psychology to impact her clients. Professionally, she has transformed the trajectory of a multi-million-dollar business, which she currently owns and operates, and realigned the paths of clients and organizations as a coach and consultant. For more information, visit http://www.michellemariebrady.com