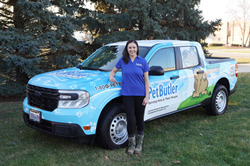 PLAINFIELD, Ill. (PRWEB) February 09, 2023
It's never too late to pursue your dreams. Just ask Jordan Dalton, who recently converted her local pet waste removal business (No Worries Professional Poop Scoop) into a Pet Butler franchise. In doing so, Jordan sees the opportunity to better service her existing pet waste removal customers and expand into pet care and pet shuttling services as well.
"I believe the relationships I have already developed with my existing customers and my familiarity with the local pet industry should benefit me while operating Pet Butler," Dalton said. "My love for animals is definitely what inspired me to go into the pet industry. The resources that Pet Butler provides me and my customers are amazing and made the decision to convert easy."
The timing really could not be any better for Dalton to join Pet Butler. According to a recent study by Morgan Stanley, the $100 billion pet industry is poised to nearly triple to $275 billion by 2030 thanks to favorable demographics and surging increases in new pet owners and spending. What's more, 65 percent of 18- to 34-year-olds say they plan to acquire or add a pet in the next five years, helping drive what's expected to be a 14 percent increase in pet ownership by 2030.
With the continued growth in pet ownership and the trends in pet parenting, (see Washington Post article here), Pet Butler is well-positioned to be the go-to service provider for all pets' needs.
"I am excited about Pet Butler's expansion into other services such as pet sitting, dog walking, and pet shuttling," Dalton said. "Pet ownership, especially dogs, is high right now and there are no signs of it slowing down. With everyone having busy lives, there will always be a need for the services we provide."
And Jordan had some words of advice for anyone else who might be thinking of shaking up their own status quo. "Do not ever give up on your dream," she said. "I had a business that was successful, but now I am going to grow something with local employees and a team that can get more involved in the community. I have a great neighbor already operating a Pet Butler in Firestone so together, we can do great things for our local pets and their people."
For more information visit https://www.petbutler.com/locations/longmont-area-pooper-scooper/ or call 720-487-9411.
###
About Pet Butler
Pet Butler Franchise was acquired in 2017 by Spring-Green Enterprises, the parent company of +46 years old Spring Green and SGE Marketing Services. They currently have 37 owners in 27 states. Pet Butler provides an opportunity for pet lovers to turn their passion for pets into a business. To learn more about how Pet Butler serves pets and their people, visit http://www.petbutler.com and connect on Facebook and LinkedIn. To inquire about a franchise call 844-777-8608 or go to http://www.petbutlerfranchise.com.