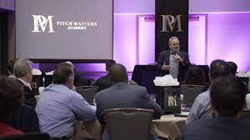 "Pitch Master's Academy is giving entrepreneurs the tools to start successful businesses by practicing the steps of delivering a perfect pitch. The intense curriculum is preparing participants to build an efficient pitch deck."
TEMPE, Ariz. (PRWEB) May 11, 2021
Pitch Masters Academy – Five influential and experienced entrepreneurs made the "Prepare to Pitch Summit" an unyielding success.
Each speaker brought a unique niche to the summit:

Shark Tank TV series and serial entrepreneur Kevin Harrington
The leading expert on salesmanship Tom Hopkins
Real estate and assisted living authority Gene Guarino
The high caliber Coach's Coach Shaun McCloskey
The international specialist in raising private capital Matt Scott
Entrepreneurs found themselves presenting their business ideas on stage in front of a professional team of investors.
The challenge, experience, and synergy of the training were electrifying.
Kevin Harrington's impact reaches the likes of Kim Kardashian, 50 Cent, Tony Little, and many others.
The View, The Today Show, Good Morning America, Wall Street Journal, and countless media outlets continue to feature the business influencer.
He came to the summit to help make entrepreneurs better at business endeavors.
"My goal is to create pitch masters," Harrington said. "The first money raised is the most difficult money raised."
During the live event, he emphasized several aspects of making the perfect pitch. The first component is making an irresistible offer during the pitching process.
HARRINGTON'S TWELVE STEPS TO A PERFECT PITCH INCLUDED
1. Get Their Attention
2. Solve a Problem
3. Unique Positioning
4. Mass Market Impact
5. Demonstrable
6. Multifunctionality
7. Magical Transformation
8. Research and Competitive Analysis:
9. Various Types of Testimonials
10. Create an Irresistible Offer
11. Know Your Numbers and Know Your Team
12. Show Your Passion
Pitching your product can be an exhilarating experience and a painful process at the same time.
Pitch Master's Academy is giving entrepreneurs the tools to start successful businesses by practicing the steps of delivering a perfect pitch.
The intense curriculum is preparing participants to build an efficient pitch deck.
Visit http://www.PitchMastersAcademy.com to get the training needed to deliver the perfect pitch and raise capital to build a successful business.