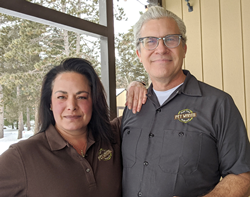 We believe that pets are not just pets, but are family members. Just as we are highly concerned about the food quality and nutrition that we give our children and other family members, we believe that a similar focus should extend to our pets as well. - Jennine Lundquist
WOODBURY, Minn. (PRWEB) February 05, 2020
Long-time friends and life-long pet owners Jennine Lundquist and Charles Mosier are pleased to announce the launch of their new pet food and supplies company – Pet Wants Woodbury.
Pet Wants' specially-crafted, private-label pet food formulas are made in small batches with fresh, natural ingredients enhanced with vitamins and minerals for a complete and balanced diet in every bowl. Pet Wants Woodbury has multiple blends of dog and cat food formulas as well as healing salve, calming balm, anti-itch spray, paw wax and more. Pet Wants Woodbury is a mobile business that offers free, personal delivery to Woodbury, Stillwater, Lake Elmo, Oakdale, Afton, Lakeland, St. Mary's Point, Bayport, Cottage Grove and the surrounding areas.
"We believe that pets are not just pets, but are family members. Just as we are highly concerned about the food quality and nutrition that we give our children and other family members, we believe that a similar focus should extend to our pets as well. We are looking forward to making it easy and convenient for people to feed their pets fresh, high-quality food with Pet Wants," Lundquist said.
Lundquist is a single mom with a daughter, who is currently a freshman at the University of Alabama. Lundquist has been a dog owner her entire life and currently is mom to a 3-year-old Irish Wolfhound named Ava. Mosier is a single dad with three grown children – Ellis, Brendan and Joe. Mosier has also been a life-long dog owner and currently is the wing-man for his 20-month-old Cavapoo named Maverick.
Lundquist and Mosier are long-time friends and entrepreneurs who both left their corporate careers to focus on work that improves the lives of individuals and their pets. Lundquist and Mosier have started several businesses together, including a patented painting system that promotes ladder safety and an education and training program developed to support persons in substance abuse recovery or exiting incarceration. Lundquist and Mosier have left 25+ year corporate careers to focus on work that improves the lives of individuals and their pets.
"We worked in healthcare for many years and we both understand the positive of impact fresh, quality food, but while there are plenty of options available for humans, it's harder to find fresh, quality food for pets. Pet Wants allows us to include our pets in the conversation about eating healthier and more holistically," Mosier said.
Pet Wants has a money-back guarantee on the freshness and quality of the food and the company only sources the best salmon, chicken, lamb, brown rice and other ingredients available. There's no sugar added, no fillers and no animal by-products and Pet Wants never uses corn, wheat, soy or dyes, which makes the food great for animals with allergies.
"Learning about the Pet Wants history, how it was founded and the benefits of being able to provide fresh, high quality, highly nutritious pet food and treats has motivated us to become Pet Wants franchise owners. We hope to educate and inform pet owners in the Twin Cities East Metro area about pet food made from the highest quality ingredients, slow-cooked in small batches, and delivered right to your door," Mosier said.
"We are passionate about sharing the Pet Wants mission of providing the freshest, most nutritious pet food available compared to pre-packaged brands," Lundquist added.
To learn more about Pet Wants Woodbury, call 1-888-738-4584, email JLundquist@PetWants.com or visit http://www.PetWants.com/Woodbury.