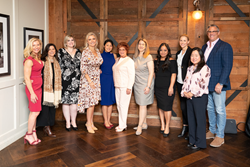 "Success isn't about how much money you make, it's about the difference you make in people's lives." Michelle Obama
NEWPORT BEACH, Calif. (PRWEB) March 07, 2020
A networking event and celebration of female leaders in Orange County
The Entrepreneur's Organization, a non-profit, peer to peer professional networking group boasting more than 14,000 members globally and close to 500 locally, hosted a first-of-its-kind TED Talk style luncheon yesterday to celebrate "Women in History Month" by bringing together female leaders and entrepreneurs from Orange County in an effort to share their stories, their challenges and their victories. Bringing notable women together helps inspire other entrepreneurs to further grow their business, but more importantly grow themselves. Over the two-hour luncheon eight remarkable female speakers were highlighted as leaders, entrepreneurs and creators at the forefront of their industries.
Keith Fiscus, President and CEO of Innovative Career Resources and President of the EO Orange County Chapter, along with EO Membership Chair and Founding Partner of Cal Elite Kids, Pro Swim Academy and Premier Swim Academy Georgette Cutler, welcomed a packed house of attendees while one of many speakers including Jennifer Rello, EO Orange County Past President, and President at Benefit Associates, Inc., led discussion topics around female leadership and entrepreneurship. Other speakers included Rosemary Czopek, Hazel Ortega, Renie Cavallari, Alice Kao, Cindy Flynn, Kate Hancock, and Jerri Rosen CEO & Founder of Working Wardrobes. From student mentors to board members, authors, super moms and more, these incredible women are not only industry disrupters and notable in their professions, but also in their communities.
Stories of business success, team leadership, company startups and more were shared in an effort to encourage the attendees to learn from one another and bring key takeaways back to their own businesses. Renie Cavallari, Founder, CEO and Chief Instigator of Aspire, says of her membership at EO, "A fellow EO Member that I've only known for 8 days invited me into her inner circle. For me, EO has brought out beautiful friendships with people who understand my challenges and share my struggles. They're sisters to me...my tribe… what else could I ask for?"
EO has truly outdone itself with the iWomen: Her Her Story & Woman of Impact event. Women-focused networking and celebration events like this are so important for the overall growth personally and professionally of women entrepreneurs.
By having events like this, women are celebrated as the entrepreneurs, creators and leaders that they are.
MORE ABOUT ENTREPRENEURS ORGANIZATION ORANGE COUNTY:
The Entrepreneur's' Organization (http://www.eonetwork.org/) is a non-profit, private, global peer to peer organization of 14,000+ Members, across 62 Countries, with 195 Chapters of business owners, founders & co-founders who employee as an organization over 4.1 million individuals around the world.
Please direct media inquiries or membership interest to Georgette Cutler, EO Orange County Membership Chair at jett.eo.oc@gmail.com or (949) 330-9606.