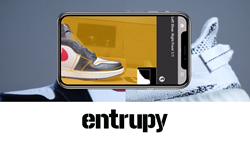 It can be hard for even the most knowledgeable authenticator to have complete certainty that a pair of sneakers is legit. Entrupy augments their existing expertise...so they can know that, 100 percent, that item is authentic.
NEW YORK (PRWEB) November 16, 2021
Product authentication technology provider Entrupy today announced that it is expanding a beta testing program for its new sneaker authentication application, which brings the same, highly-accurate, artificial intelligence-driven product verification technology used by enterprises and large marketplaces to small and medium-sized organizations.
For the final stages of its application development process, the company is inviting qualified sellers and resellers of frequently-counterfeited sneaker styles including Nike Air Jordan 1, Adidas Yeezys and Gucci to join the beta testing program, which will grant them no-cost use of the technology for the remainder of 2021, at minimum. The service will include authenticity certificates and Entrupy's financial guarantee for sneakers Interested parties who buy or sell over 10 pairs a month can apply for participation via Entrupy's website.
The Entrupy Sneaker Authentication app brings the same powerful technology that has, to date, been available only to larger enterprises as a hardware-enabled solution called Legit Check Tech. By launching an app-only version, Entrupy is making the technology accessible to a broader array of resellers and marketplaces participating in the large and lucrative "sneakerhead" economy. Like the enterprise version, the mobile app leverages advanced imaging and a proprietary database with millions of records collected from real and fake products to instantly verify the authenticity of the world's top-selling styles.
In addition to verifying authenticity, the new Entrupy app provides product fingerprinting and registration with every item scanned, making them fool-proof from swapping. The immutable identifier is created based on characteristics that are invisible to the human eye and specific to each shoe. At any point in the future, the exact identity of that item can be reconfirmed by performing a new scan and verification against the records in Entrupy's secure cloud database.
The full launch of Entrupy Sneaker Authentication app is expected in 2022. Additionally, Entrupy is actively working on building API integration capabilities for third-party marketplaces. This would enable marketplaces that operate as conduits between sellers and buyers to guarantee the authenticity of products sold on their platform without physically possessing and inspecting items. Not only will this increase buyer confidence, it will reduce friction by speeding shipping times.
In 2020, over $1.3 billion in counterfeit goods were seized by U.S. Customs and Border Control (CBP) agents. Further large-scale busts throughout 2021 have led some experts to theorize that the global pandemic has exacerbated the issue, as infringers are exploiting shifts in shopping behavior alongside disruptions in transborder supply chains to distribute fake goods to unwitting consumers. Since inception in 2016, Entrupy alone has secured over $600 million in customer inventory based on the value of authentic merchandise on the secondary market.
"The fast-growth and high-profits of sneaker resale, especially combined with fragmented and distant digital sales channels, are significant means and motive for bad actors. As both the quantity and quality of their fakes keep increasing, it can be hard for even the most knowledgeable authenticator to have complete certainty that a pair of sneakers is legit. Entrupy augments their existing expertise, giving authenticators the ability to 'see' things that might otherwise escape notice so they can know that, 100 percent, that item is authentic," said Vidyuth Srinivasan of Entrupy.
"A few years ago, no one was talking about the 'circular economy.' Today, it's high on the list of ways we can continue enjoying fashion at the same time we take care of the planet," said Srinivasan. "Ensuring the circular economy continues its healthy pace of growth requires that we foster trust and confidence in secondary markets, which means bolstering our ability to detect counterfeits and remove them from circulation. The more confidence and trust people have in the products they buy, the more those products - and the overall market - can reach its full potential."
To learn more, visit Entrupy Sneaker Authentication.
About Entrupy
Entrupy is a hardware-enabled SaaS company that uses computer vision algorithms and microscopy to bring trust to transactions of high-value physical goods. Currently in use by hundreds of retailers, brands secondary resellers and marketplaces worldwide, Entrupy provides the only scalable technology capable of authenticating luxury products from brands such as Louis Vuitton, Chanel and Hermès, among others. The service launched in 2016, following four years of research led by Ashlesh Sharma, Vidyuth Srinivasan and Lakshminarayanan Subramanian, Professor at New York University. Investors include DG Lab Fund, deep learning pioneer and Facebook AI Research (FAIR) director, Yann LeCun, serial entrepreneur and investor Zach Coelius, cloud computing pioneer and Google VP of Infrastructure Eric Brewer, and Japanese venture capital firm, Accord Ventures. The company is privately held and based in New York City. For more information, visit http://www.entrupy.com.