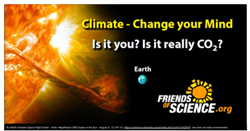 The Tar Sands Campaign is a decade-long, foreign funded, orchestrated attack to demarket Alberta oil sands investment and destroy its reputation that has been driven by foreign funded Canadian ENGOs.
CALGARY, Alta (PRWEB) February 06, 2019
Friends of Science Society are disputing the claims of Environmental Defence and their recent report on carbon taxes, as presented in an op-ed in the Edmonton Journal of Jan. 15, 2019. Entitled "Carbon Pricing Consequences for Alberta," the Friends of Science report rebuts the claims of Environmental Defence, showing that significant economic and human damage has ensued from the carbon tax and Alberta Climate Plan.
According to Robert Lyman, Ottawa energy policy consultant, Alberta's combined provincial and federal fuel taxes are $170/tonne carbon tax equivalent. Adding on another carbon tax when Alberta's US trade partner has none makes Alberta uncompetitive.
A second rebuttal report by Friends of Science Society entitled "Manufacturing a Climate Crisis" deconstructs a recent blog post of Jan. 30, 2019, by Executive Director Jessica Clogg of West Coast Environmental Law (WCEL) in which she tries to fend off criticisms of their role in the foreign-funded "Tar Sands Campaign."
The Tar Sands Campaign began in 2008 and is a decade-long, foreign funded, orchestrated attack to demarket Alberta oil sands investment and destroy its reputation, as reported by Corporate Ethics on their website. The campaign has been driven by Canadian environmental nongovernmental groups (ENGOs), as reported by CBC's Wendy Mesley on "The Weekly," Jan. 20, 2019.
West Coast Environmental Law has been a key player in blocking multi-billion-dollar pipeline projects in Canada. WCEL were funded in 2010 by the foreign Oak Foundation, as noted in their grant database, oakfnd.org/ to establish a legislated tanker ban off the west coast of Canada, a project that succeeded in the stated objective of "the cancellation of the Enbridge Northern Gateway pipeline to transport tar sands oil and bitumen to Asian markets."
Both Environmental Defence and West Coast Environmental Law rely heavily on claims of a climate crisis, global warming, extreme weather, and climate change as rationale for their pipeline blockading or carbon tax promoting advocacy.
Millions of dollars have been spent by ClimateWorks and independently by their partners funding ENGOs world-wide to demarket coal, oil, as reported by Matthew Nisbet (2018). LINK: onlinelibrary.wiley.com/doi/full/10.1002/wcc.524
The science community is reaching a consensus that the global warming impact of increased carbon dioxide is nominal, as shown by Emeritus Professor François Gervais in his Porto presentation.
As reported by Dr. Judith Curry and Dr. John Christy to the US Senate on March 29, 2017, natural forces are the main drivers of recent global warming, not humans and not carbon dioxide emissions. Their statements are compiled in this Global Warming Policy Foundation report: thegwpf.org/content/uploads/2017/03/Climate-Science-March20171.pdf
About
Friends of Science Society is an independent group of earth, atmospheric and solar scientists, engineers, and citizens who are celebrating its 16th year of offering climate science insights. After a thorough review of a broad spectrum of literature on climate change, Friends of Science Society has concluded that the sun is the main driver of climate change, not carbon dioxide (CO2).
Friends of Science Society
P.O. Box 23167, Mission P.O.
Calgary, Alberta
Canada T2S 3B1
Toll-free Telephone: 1-888-789-9597
Web: friendsofscience.org
E-mail: contact(at)friendsofscience(dot)org
Web: climatechange101.ca