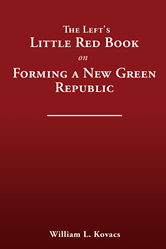 The 2020 version of the book puts emphasis on how the Left and environmentalists use concern for the environment to paint their movement 'green' to cover a 'red' socialist core
GREAT FALLS, Va. (PRWEB) September 19, 2020
Author William L. Kovacs provides a 2020 update on his former work with The Left's Little Red Book on Forming a New Green Republic ($9.99, paperback, 9781632214416; $4.99, e-book, 9781632114423).
Kovacs was recently reminded of a small book he wrote for the U.S. Chamber entitled, The Environmentalists' Little Green Book. He wrote it in response to the radical leftist protests of 2000, claiming that humans were a cancer to the earth and that the world would soon come to an end. Seeing the current conditions of society, he decided to update the book, now focusing on the strategies of the radical left to hide their socialist regime under an environmentalist cloak.
"The 2020 version of the book puts emphasis on how the Left and environmentalists use concern for the environment to paint their movement 'green' to cover a 'red' socialist core," said Kovacs.
William L. Kovacs served as the senior vice president for environment, technology & regulatory affairs at the U.S. Chamber of Commerce; chief-counsel for the House of Representatives Subcommittee on Transportation and Commerce; chairman of the Virginia Hazardous Waste Facilities Siting Board and a partner in DC law firms. He retired from the U.S. Chamber in 2017, but continues to write, including his recent book, Reform the Kakistocracy: Rule by the Least Able or Least Principled Citizens.
Liberty Hill Publishing, a division of Salem Media Group, is a leader in the print-on-demand, self-publishing industry. The Left's Little Red Book on Forming a New Green Republic is available online through amazon.com and barnesandnoble.com.