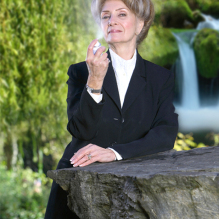 GRANTS PASS, Ore. (PRWEB) March 03, 2020
Air Date: 17 February 2020
Guest: Dr. Ming Yang, Internationally recognized expert in environmental protection.
https://www.voiceamerica.com/episode/121743/american-enviromental-technology-and-its-impact-on-china
Energy and environmental protection hinges more than ever on better education according to Sharon Kleyne, founder and research director of Bio Logic Aqua® Research Water Life Science® and energy and environment economist Dr. Ming Yang of China and the U.S.
"What I found out many years ago is a lack of education about water and life," says Kleyne, host of the internationally syndicated The Power of Water® & Your Health sponsored by Nature's Tears® EyeMist® on VoiceAmerica and produced by Rose Hong, founder and director of Global Dragon TV in Washington, D.C. "Without the water," Kleyne continues, "we would lose eternity. The planet needs to live with the universe. Human life on the planet began with what is seen and unseen. Human life is made up of water."
If the planet, the seen and the unseen are to survive, it will take urgent action by humanity because time is running out according to Dr. Ming Yang, Energy Technology Economist at the International Energy Agency (IEA) of the OECD in Paris. Yang, who holds a Ph.D. in energy engineering and economics, is also the author of six books and more than 60 journal articles about the global environment. Over the last 28 years, Yang has lived and worked in more than 60 countries in the world. Since 2008, Yang has lived in the U.S. and China. In China, he is working to move rural China to a zero-carbon economy by 2050.
Yang agrees with Kleyne that misinformation, lack of education and investments are obstacles to a healthier environment. Pollution and proliferation of plastics in the ocean contribute to the oceans warming up. "The biggest enemy, though," says Yang, "is oceans warming up due to carbon emissions and climate change. Even rain is negatively affected by high carbon emissions." Yang warns against dangerous nuclear power plants that can devastate environments for centuries, citing recent examples of major accidents in Russia and Japan.
In China, Yang is focused on programs for cleaner, safer water and wind and solar power. Yang argues that transitioning to a zero-carbon economy "will not negatively impact income. It's a win/win transition to clean energy-efficient systems."
When Kleyne asks what individuals can do to create a better environment, Yang suggests starting locally and small. "Avoid using packing materials, paper and excess water," Yang responds. "This will go a long way towards saving local environments worldwide."

If you would like to listen to the talk radio program organized by program director Rose Hong of Global Dragon TV featuring Dr. Ming Yang, Ph.D., internationally recognized expert in environment protection and Energy Technology Economist at the International Energy Agency and Health Olympics new water technology educator and evaporative dry eye researcher Sharon Kleyne as they discuss environmental protection, climate change, education, water, China, the U.S., Africa, pollution and evaporation, follow this link: https://www.voiceamerica.com/episode/121743/american-enviromental-technology-and-its-impact-on-china
If you would like to watch a brief, entertaining educational film that demonstrates the application of the new Dry Eye Solution® technology Nature's Tears® EyeMist®, sponsor of Sharon Kleyne's talk radio program, go here: https://www.youtube.com/watch?v=l0gOr8TB45U