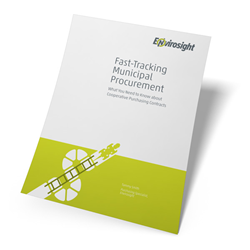 Cooperative contracts streamline the procurement process by eliminating the need for competitive bidding on the part of municipalities.
Randolph, NJ (PRWEB) November 09, 2016
With budgets under pressure, it is essential that municipalities look for innovative ways to do more with less. Cooperative purchasing accomplishes just that. In a new white paper, Envirosight reveals the benefits of cooperative purchasing contracts and lays out how to get started.
"Cooperative contracts streamline the procurement process by eliminating the need for competitive bidding on the part of municipalities," says Tammy Smith, Purchasing Specialist for Envirosight and author of the paper. "We created this white paper for procurement professionals looking to bring simplicity and ease to the municipal purchasing process."
This white paper is published as a part of Envirosight's commitment to create and share reference material that benefits decision-makers in the waste water industry. To download a complimentary copy, visit http://inbound.envirosight.com/fast_tracking_municipal_procurement
About Envirosight LLC
Randolph, New Jersey-based Envirosight, LLC provides video pipeline inspection solutions to municipalities, contractors, departments of transportation, and civil/environmental engineers. Envirosight is committed to ongoing innovation, delivering products that enhance user productivity and inspection detail. Envirosight serves customers through a trained network of regional sales partners who deliver localized support and expertise with rapid turnaround. All Envirosight technical employees hold NASSCO PACP certification. Visit Envirosight online at http://www.envirosight.com