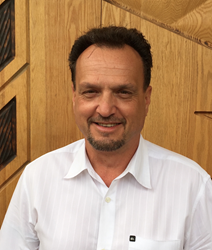 "The equipment's versatility and technological edge will be key to success. There is a gap in the environmental equipment market in Hawaii, and with this strategic alliance we are positioned perfectly to address it."
Randolph, New Jersey (PRWEB) April 11, 2016
Envirosight is pleased to announce expanding the exclusive territory for Standard Equipment to include Hawaii. Standard Equipment has been a long-time sales partner for Envirosight, and the expansion coincides with Standard's hire of municipal equipment sales expert to serve the territory.
In his role as Environmental Equipment Specialist, Mark will work to grow market presence for Envirosight's sewer inspection technology among the islands' municipal, contractor, DOT and engineering clientele. "Hawaii has a wide range of infrastructure challenges for which Envirosight's equipment is perfectly suited," said Mark. "The equipment's versatility and technological edge will be key to success. There is a gap in the environmental equipment market in Hawaii, and with this strategic alliance we are positioned perfectly to address it."
"Standard Equipment knows the importance of having the right people in place to achieve growth," said Mike Vislay, Director of Sales for Envirosight. "Mark has 20 years' experience in the industry, and understands Hawaii's market inside-out." Standard has been an exclusive dealer for Envirosight products in Northern Illinois for the past 10 years.
"We are thrilled to expand our territory to include the State of Hawaii," said Jerry Donlon, President of Standard Equipment. "We look forward to strategically utilizing Mark's industry relationships and market knowledge to promote Envirosight's innovative sewer inspection technology."
For more information visit http://www.standardequipment.com and http://www.envirosight.com.
About Envirosight LLC
Randolph, New Jersey-based Envirosight, LLC provides video pipeline inspection solutions to municipalities, contractors, departments of transportation, and civil/environmental engineers. Envirosight is committed to ongoing innovation, delivering products that enhance user productivity and inspection detail. Envirosight serves customers through a trained network of regional sales partners who deliver localized support and expertise with rapid turnaround. All Envirosight technical employees hold NASSCO PACP certification. Visit Envirosight online at http://www.envirosight.com