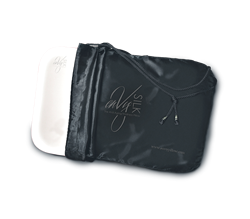 It is time we educated our clients on the affects side sleeping can have on the formation of sleep lines and the enhancement of facial asymmetry. enVy..A must have for anyone interested in protecting their face and their investment!
Oakville, ONTARIO (PRWEB) May 26, 2015
The enVy pillow Co. the creators of the enVy Ergonomic Pillow, announces the availability of its new ENVY SILK pillow. This new edition has the same quality of sleep, spinal wellness and wrinkle treatment benefits of the original ergonomic pillow. The enVy Pillow line prevents unwanted sleep wrinkles and promotes optimal wellness and comfort by providing proper head, neck and spinal support. It is endorsed by anti-aging Doctors as well as Chiropractors and Physical Therapists who recommend the enVy™ Pillow because of its cervical spinal support. The enVy™ SILK is a special edition of anti-aging that includes a custom fitted, removable 100% Mulberry Silk pillowcase.
Kim Renton and Kathy Young Keefe, Founders of enVy Pillow Co., patent holders for the enVy™ pillow line stated that, "After our introduction of the enVy pillow on Dragons Den it was time to add the special edition enVy pillow. After receiving requests from customers (and the professionals who sell the pillow) to offer a silk pillowcase option for the pillow. Mulberry Silk was the perfect fit for our wrinkle treatment pillow and as a result it have taken beauty sleep to a new level."
The enVy™ SILK pillow has the same ergonomic V-shaped design as its ancestor and is made with Canadian made hypoallergenic memory foam which is resistant to dust mites, naturally anti-microbial, self-moulding and stays soft and supportive even when temperatures drop below freezing. EnVy™ comes with a durable satin travel bag allowing the user to keep it protected during transport.
The new Mulberry Silk pillowcase is custom fitted to the enVy pillow's unique ergonomic "Off-Your-Face" design and has anti-aging properties in its own right.
➢ Mulberry silk is composed by a rare species of silkworms that feed on mulberry leaves and is the softest silk with a shiny appearance on both sides.
➢ It is extremely strong natural, odorless, hypoallergenic and extremely breathable fabric allowing air to move through the fabric which means new oxygen is passing by your skin throughout the night.
➢ Unlike cotton and other materials, mulberry silk does not absorb moisture which means your skin's natural oils and applied moisturizes stay on your face allowing them to do their intended job.
➢ The amino acids present in the material have been medically acclaimed as beneficial properties that improve health of the consumer. It offers a calming effect and improves hair conditions and delays the onset of winkles
➢ Mulberry silk acts as a natural beg bug repellant because the natural fabric structure is very smooth so bed bugs are not able to stick on it.
The enVy Pillow Company's anti-aging line of products reduces sleep lines, promotes "off-your-face" positioning after cosmetic procedures and maintains the benefits derived after cosmetic surgery. In The Journal of Cosmetic Surgery in 1987, Dr. Samuel J. Stegman stated that "sleep creases" develop due to sleeping on one or both sides. He observed that the wrinkles diminished when pressure was removed from the delicate tissues during sleep. A recent statement from the American Academy of Dermatology reinforces the aging effects of our beauty sleep with our faces pushed into a pillow every night. The v-shaped design of the enVy™ Pillow ensures the face is free from compression with its minimal face-to-pillow contact design.
"Most of us sleep the same way every night and if you scrunch up on one side of your face and you snuggle your pillow or put your hands under your face, eventually you're going to see some evidence of that over time. That's what sleep wrinkles are. I believe that the enVy pillow works. We can't keep them in the building as patients are snapping them up!" -- Dr. Robert Shenker, Cosmetic Surgeon on CHCH-TV
The enVy™ Pillow line can be purchased at Murale, Plastic Surgery, Dermatology, Med-Spa, Chiropractic, Physiotherapy and Wellness clinics across Canada /USA and retails for $199.00 plus tax. Locations listed at http://www.envypillow.com.
The enVy Pillow Co. was founded in 2008 by two registered nurses, Kathy Young Keefe and Kim Renton with a mutual interest in anti-aging medicine and preventative health.
_________________________________________________
For more information about this new product or to schedule an interview with Kathy Young Keefe or Kim Renton: phone 905 599 9200 or email info(at)envypillow(dot)com