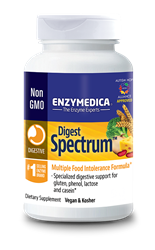 "We're thrilled and honored that natural products retailers nationwide have voted Digest Spectrum as the #1 digestive health supplement in the U.S.," said Scott Sensenbrenner, President & CEO of Enzymedica.
VENICE, Fla. (PRWEB) April 22, 2021
Enzymedica, a leading digestive health and wellness company that produces natural supplements, announced today that its best-selling Digest Spectrum™ is WholeFoods Magazine's 2021 Natural Choice Award winner as the #1 Digestive Health Supplement in America. Selected annually by natural products retailers nationwide, the Natural Choice Awards honor products that have made the greatest impact on their business for the year and recognizes companies working to greatly improve lives through wellness.
Digest Spectrum is uniquely formulated with a broad range of 13 diverse digestive enzymes to help address several major food intolerances, including gluten, dairy, fats, beans and vegetables. * Food intolerances occur when a person has problems digesting a specific food group due to enzyme deficiencies which may be at the root of digestive distress. Food intolerances are a very real problem for many people, and often, they stop eating foods they enjoy. Digest Spectrum offers a unique solution to help alleviate issues such as occasional indigestion, bloating, gas and digestive discomfort.* Cross-contamination during food preparation, whether at home or eating out, is also a concern for many. The targeted enzymes in Digest Spectrum are able to break down problematic foods and provide peace of mind from cross-contamination for those who choose to avoid foods that create occasional digestive issues.*
"We're thrilled and honored that natural products retailers nationwide have voted Digest Spectrum as the #1 digestive health supplement in the U.S.," said Scott Sensenbrenner, President & CEO of Enzymedica. "We launched this top-selling product over a decade ago to help those with food intolerances, and it's a true testament to the product's quality and efficacy that it continues to be a best seller and is highly recommended by retailers. At Enzymedica, good health and nutrition are at the core of who we are, and retailers recognize this. Every day, we are steadfastly committed to creating the highest quality products that help improve people's lives. This is why Digest Spectrum continues to be a best seller year-after-year, as it provides true health support for so many."
Digest Spectrum is a targeted formula to support food intolerances and features enzymes such as the DPP-IV protease enzyme which helps digest foods containing gluten and casein, lactase which breaks down breaks down dairy sugar, and xylanase which breaks down difficult to digest fibers.* Additionally, Enzymedica's Thera-blend™ formula contains amylase for breaking down starch and carbohydrates into smaller sugars, lipase to help the body break down fats and broad-spectrum protease to help break down proteins.*
Digest Spectrum's unique Thera-blend™ enzyme formula with 13 diverse digestive enzymes delivers superior results because each of the enzymes achieve optimal performance within the varying pH levels of the digestive system.* pH ranges naturally fluctuate throughout the digestive process; from the very acidic lower stomach where food is broken down by stomach acid, all the way to the more neutral pH of the intestines where nutrient absorption occurs and the microbiome resides. Each phase of digestion is vital to health and vitality, and Thera-blend was formulated to contain pH specific enzymes to ensure optimal digestion during each phase. *
About WholeFoods Magazine
WholeFoods Magazine, a family-owned media company based in South Plainfield, NJ, has been publishing for over 35 years with a mission to inform and educate all in the Natural Products Industry. The BPA-audited publication provides content on all products sold in the Natural Products area. Digital products include wholefoodsmagazine.com, In the Know e-newsletters, and naturalproductfinder.com, as well as a social presence on Instagram, LinkedIn, Facebook, Twitter, Youtube, and Podbean.
About Enzymedica
Enzymedica is a Florida-based, natural digestive health company since 1998 that sells to over 30,000 stores worldwide and online. Its top-selling enzyme brand is No. 1 in America. In addition to high quality products, Enzymedica also is dedicated to its People & Planet initiative, which is a core pillar within the company's mission - to leave a legacy that will make the world a better place. The company has received more than 90 industry awards including multiple Better Nutrition Magazine's People's Choice Awards, many Best of Supplements Awards and numerous VITY and Nexty Awards. Visit https://enzymedica.com/ for more information.
*These statements have not been evaluated by the Food and Drug Administration. These products are not intended to diagnose, treat, cure or prevent any disease.
Media Contact
Ria Romano, Partner
RPR Public Relations, Inc.
Tel. 786-290-6413