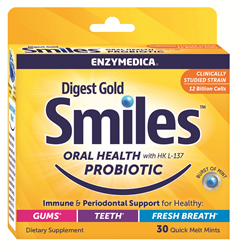 VENICE, Fla. (PRWEB) February 17, 2021
Enzymedica®, a Florida-based company that produces high quality natural digestive products, announced today the launch of its innovative oral health product Digest Gold Smiles™. This gluten-free, no sugar added supplement delivers 12 billion cells per serving of HK Lactobacillus plantarum L-137 probiotic. Enzymedica partnered with two separate companies in Japan for over two years to develop the product's first-of-kind quick-melt probiotic delivery system technology. The collaboration between Enzymedica and the Japanese companies produced a new periodontal and immunity product unlike any other.*
Heat treatment locks in peak levels of the L-137 probiotic before these levels naturally decline throughout the lifecycle, which also allows it to be stable as HK L-137 in the oral cavity as well as in gastric acid. A novel two layer quick-melt shell was developed for Digest Gold Smiles™ to protect the HK L-137 probiotic cells, thereby providing better periodontal health support.* Backed by years of clinical research in Japan, the HK L-137 in the new Digest Gold Smiles™ helps promote good oral bacteria, supports gum health and promotes production of hyaluronic acid in epidermal cells, which supports cellular regeneration and improves "pocket depth".* This helps to assist in reducing the bacteria levels that can take hold in periodontal pockets located between the gums and teeth, thereby promoting better oral health.* The clinical research shows supplemental oral probiotics adhere to dental tissues, acting as a protective lining for oral tissues.*
Studies have shown a healthy microbiome begins in the mouth. Improving oral health is especially important as we age, because gums naturally recede and the need to improve oral health care can become crucial to a person's overall health and quality of life.
The 12 billion cells of HK L-137 probiotic that is in each serving of Digest Gold Smiles™ has also been shown to boost natural killer T-cell activity, which supports the immune system against seasonal threats.*
Each package of Enzymedica's Digest Gold Smiles™ contains 30 quick-melt mints for $19.99 and can be purchased at https://enzymedica.com/products/digest-gold-smiles?variant=32363430608945#benefits
About Enzymedica
Enzymedica is a Florida-based, natural digestive health company since 1998 that sells to over 30,000 stores worldwide and online. Its top-selling enzyme brand is No. 1 in America. In addition to high quality products, Enzymedica also is dedicated to its People & Planet initiative, which is a core pillar within the company's mission - to leave a legacy that will make the world a better place. The company has received more than 50 industry awards including multiple Better Nutrition Magazine's People's Choice Awards, many Best of Supplements Awards and numerous VITY and Nexty Awards. Visit https://enzymedica.com/ for more information.
*These statements have not been evaluated by the Food and Drug Administration. This product is not intended to diagnose, treat, cure or prevent any disease.
Media Contact
Ria Romano, Partner
RPR Public Relations, Inc.
Tel. 786-290-6413