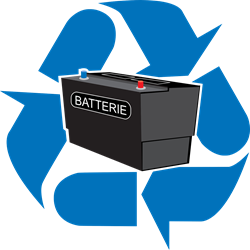 BROOKLYN, N.Y. (PRWEB) March 23, 2020
Automotives on the road are one of the largest contributors to greenhouse gases, but what is the impact of cars off the road when they have reached the end of their life? When looking to get rid of a junk car, sellers may not consider the impact auto recycling has on the environment and how selling to an auto recycler instead of a junkyard may impact climate change.
Cars are primarily made up of metal, which can be removed from the car and easily sold. But much of the car is made of other materials, which require more skill to properly recycle.
Research from the Department of Manufacturing and Industrial Engineering in Malaysia has found that "the composition of a typical vehicle has changed substantially in recent years. For example, ferrous metal [metal containing iron] content has decreased significantly but more plastic materials are incorporated because they are lighter and more fuel efficient. Passenger vehicles are an outstanding example of complex multi component consumer products. The average vehicle is assembled from about 10000 parts of which there are a large number of different materials."
These materials, including plastics, glass, tires, and batteries can all leach into the ground if left to decompose in a junkyard. By recycling the metal, automakers can create new vehicles from recycled metal rather than mining for new material. Plastics can be melted down and reshaped, and batteries can be taken apart so that the lead can be reused.
Overall, 25 million tons of material are recycled from junk cars every year, and just in North America, auto recycling saves 85 million barrels of oil. Auto recyclers safely dispose of hazardous liquids equal to the amount of 8 oil spill disasters. Batteries, which often contain hazardous materials such as lead, can be taken apart so that those materials can be reused or safely disposed of. This keeps toxins out of the ground.
These numbers are staggering when you see how much can come out of that junker sitting in your backyard. Rather than letting an old vehicle rust away in a junkyard or garage, it is better for the environment (and your wallet) to sell it to a certified auto recycler. At Rusty's Auto Salvage, we work with local salvage yards to ensure that as much of the car is recycled and reused as possible.
However, the Environmental Protection Agency states that the national recycling rate is only 34.5%, and we can assume that percentage translates to the number of cars that are recycled each year. But with 14 million cars reaching their end-of-life each year, that number should be much higher.
The bulk of a car is made up of steel, which is an infinitely recyclable material. It does not lose any of its characteristics during the recycling process, and as such can then be used to make new cars. In North America, enough steel is recycled each year to produce 13 million new vehicles! Imagine how many resources it would take to mine all that metal if no one recycled their cars.
Beyond just recycling the vehicle to make into other goods, recycling cars can mitigate other environmental catastrophes. Toxic fluids, such as mercury and lead, can leach into the ground at landfills and contaminate groundwater. This can kill off local wildlife near the landfill as the area becomes uninhabitable. Fires are commonplace at landfills, as methane gas builds up over time. By removing cars from the landfills, and coincidentally removing many flammable liquids from the landfills, the risk of fires lower.
Overall, there are innumerable benefits to recycling automotives. So rather than letting a junker sit in the garage or sending it off to the nearest landfill, it is worth the time to look into local auto recyclers to find the best place to send a car at the end of its life.