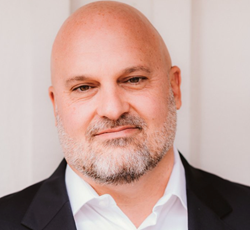 AGOURA HILLS, Calif. (PRWEB) November 03, 2021
ePallet today is pleased to announce that Joe Gozzi, a transformational leader and operations executive in the consumer goods industry, has joined as Chief Executive Officer.
Mr. Gozzi brings 20+ years of experience setting strategy and steering business development initiatives to ePallet. His experience and leadership style focuses on building cultures of innovation and collaboration, developing and leading new corporate divisions to usher legacy organizations, portfolio companies, and startups through change and growth stages.
"I've had the privilege of building strategic relationships throughout my career. I understand the value for wholesale buyers and sellers to have an 'endless aisle' of distribution opportunities and ePallet is the ecommerce platform to achieve this vision." said Mr. Gozzi.
Max Gold, Chairman of the Board of ePallet, said "we're thrilled to welcome Joe to our team and I believe he has the right skills and experience to lead us during our accelerated growth phase".
Prior to joining ePallet, Joe was a co-founder and COO of Transform Health. Previously Joe led the commercial growth initiative as the Senior Vice President at Roland Foods, responsible for strategic partnerships and innovation. During his time at Roland Foods, Joe held leadership roles in Sales and Global Procurement leading the restructuring of both the sales and purchasing organizations.
Prior to Roland Foods, Joe was Director of Sales and Product Development at Otis McAllister, a global sourcing firm with multi-branded and private label agricultural ingredients.
ePallet is a wholesale ecommerce platform to connect pallet buyers and sellers directly. Consumers, buyers and manufacturers should visit ePallet.com or call 833.ePallet (833.372.5538). Contact Joe Gozzi, CEO, jgozzi@epallet.com