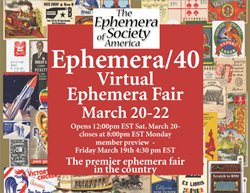 As a result of the pandemic, we have taken traditional in-person book and paper fairs and moved them online with tremendous success. Now anyone across the globe can see and purchase the wide variety of ephemera available, expanding the opportunities for vendors and collectors.
OLD GREENWICH, Conn. (PRWEB) March 09, 2021
Ephemera/40 is slated to be the largest ephemera fair ever held under the auspices of the Ephemera Society of America (ESA). More than 100 dealers will be participating in this year's virtual event which will take place from noon on Saturday, March 20 through 8:00 pm on Monday, March 22. ESA members will have early admission starting Friday, March 19 at 4:30 pm.
Ephemera refers to paper items such as posters, broadsides, letters, maps, magazines, photographs, and other items that were meant to be used and discarded. Though not created to be preserved, many types of ephemera have since become highly collectible. Some of the items up for sale include almanacs, baseball cards, broadsides, cartes de visite, chromolithographs, cigar boxes, civil war memorabilia, comic books, copperplate prints, daguerreotypes, lithographs, newspapers, photographs, playbills, political collectibles, stamps, sheet music, sports mementos, stock and bond certificates, toys and games, and women's history ephemerae.
Thanks to the virtual platform, collectors from all over the world can peruse the wares of every exhibitor in the fair one by one—akin to the experience of walking through a live show booth by booth—or easily visit just their favorite dealers. A built-in robust search feature allows visitors to browse by category, subject or any search term to find specific items of interest. Prices range from under $50 to many thousands of dollars so there will be something for everyone from the seasoned collector to the first timer.
The show is free to attend and while pre-registration is not required, more information can be found as well as a page to sign up for email updates can be found here https://www.ephemerasociety.org/2021-conference/
Due to the pandemic, the annual conference, "Women Challenging Expectations," will also be virtual with an online Zoom webinar on March 18 and March 19 and open to every ESA member at no charge. Originally scheduled in 2020 for the centenary of the 19th Amendment, women's suffrage was a logical conference topic. Professor Heidi Herr and her students at Johns Hopkins University will address what suffrage ephemera can mean today. The keynote presentation will focus on the fascinating lives of women across centuries and cultures:

Lisa Baskin will reference her broad-based collection of ephemera interpreting working women which is archived at Duke University.
Journalism Professor Brooke Kroeger of New York University will relate the story of investigative journalist Elizabeth Cochrane, better known by her pen name Nellie Bly.
Tales of Johanna Wilhelm, known as the "Sheep Queen of Texas" in the 19th century, and Annie Tankesley from Australia in the early 20th century will be presented by writers Virginia Noekle, Doris Blackburn and Amanda Bede.
Princeton University's archive of Sylvia Beach adds 1920s Paris literary ephemera to writer Caroline Preston's inherited personal collection of the founder of the famous bookshop Shakespeare and Company.
Research notes preserved at the American Philosophical Society enhance an understanding of the work of geneticist Barbara McClintock, researched by archivist Susan Anderson Laquer.
Ph.D. candidate Jennie Waldow from Stanford University will delve into the late 20th century with an exploration of the influence of Lucy Lippard on political art.
Show producer Marvin Getman pivoted in May of 2020 to host his popular in person ephemera and book fairs online transforming the way buyers meet sellers of rare books, maps, prints, and ephemera. Getman has already hosted more than eight of his own successful online book fairs since June of 2020 and his platform is now the gold standard for other book fairs and antiques shows around the world. For more information, visit http://www.getmansvirtual.com
# # #