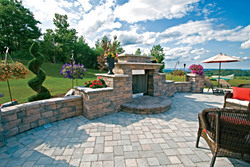 Woodbury, NJ (PRWEB) August 29, 2017
When comparing traditional patio materials like concrete or wood, neither come close in beauty to paving stones. New pavers tend to cost more upfront but homeowners choose them for their durability and low maintenance. The stone surface of a lovely walkway or patio is instantly recognizable as an amenity of a higher-end dwelling, but the charm and strength of a paving stone surface is within reach for homeowners on a budget. The trick is finding the right paving stone system to complement the home's exterior. Many paving stone manufacturers offer options at a lower-price point than their premium lines.
Paving stones in the smart-budget category typically come in fewer shape, size and color options but the pavers are attractive, strong and efficient. They're a great choice for homeowners who are reaching for a home improvement that will return an amazing value for their money and effort. Any paver project has many aspects, like ancillary materials, transport, and labor, that make up its final cost. The pavers themselves represent just one of those costs, but "budget conscious" does not have to mean "compromise." Imperial pavers from EP Henry are an example of popular smart-budget pavers for spaces like pool decks, driveways, or walks. A few tricks of the trade can help achieve an impressive look for less money.
Here are 3 key tips to getting a luxurious-looking patio on a budget.
1. Research. Many manufacturers offer a budget conscious paver line. If an outdoor project also calls for a garden or retaining wall, the manufacturer may also provide a complementary wall system.
2. Color choice. A color that complements the home's exterior will be the main focus of the color choice. Along with color range, the shape of the paver also influences design decisions. A square or rectangle will be the smart-budget paver shape; Their patterns tend to be simpler and therefore easier to install, making them more efficient for labor costs.
3. In-Person review. Actual product samples will be on display at distributor locations. The higher-price and smart-budget pavers will be available for browsing. A visit to a distributor is the key to understanding all that can be achieved with economically-priced pavers.
Being strategic about the paver choice will leave some room in the budget for the often "overlooked" costs of a completed outdoor room project, like patio furniture, cushions or acrylic glassware. An expensive look is achieved with good design, and smart-budget pavers can be an integral part of that project.
About EP Henry®
EP Henry®, the oldest American family-owned and operated manufacturer of unit concrete products in North America, provides the highest quality and broadest product offerings in Hardscaping™. Based in Woodbury, New Jersey, EP Henry manufactures a wide range of paving stone and retaining wall products. EP Henry offers beautiful patio pavers, outdoor kitchen kits, garden wall solutions and more. For more information on EP Henry Hardscaping products, visit EPHenry.com or call 800-44-HENRY (800-444-3679).