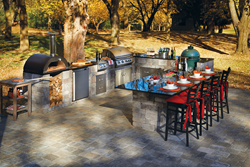 Woodbury, New Jersey (PRWEB) July 05, 2017
Work and life balance gets upended. We lose our footing. The path becomes unclear. In this culture of busy lives, it pays to take a few minutes each day to renew and restore your serenity.
When the weather welcomes us outside, an outdoor room is the best place to ground oneself again.
So many great moments are spent on a patio. It's an extension of the home, another living room, or an extra kitchen, or simply a quiet napping spot on a summer Sunday. Patios are private spaces that release us from the sensory overload of the typical rushed American lifestyle.
Patios come in all shapes and sizes. A small square of pavers with a chair is all anyone needs to enjoy a cup of tea in the morning or have a nice sit with a great book in hand. But the trend lately is to build entire outdoor rooms. Outdoor kitchens can be built with kits, adding a piece at a time. Being able to cook and prepare food outdoors is a game-changer. An outdoor kitchen opens up many more opportunities for family gatherings, graduation parties, rehearsal dinners, and seasonal celebrations like 4th of July, Back to School parties and Halloween hauntings.
No outdoor patio kitchen? No problem: A grill or a fire pit is all the portable hearth you need to make your outdoor room a home. Host neighbor happy hours, friends-n-family barbecues and midweek s'mores. String some lights between trees and sip some wine under the stars. It's Mother Nature, refined.
A patio doesn't need to be perfect. It only needs to be yours, for the time you're on it. Doing the things that make us whole again, reading, meditating, spending time with friends, are quickly becoming a culture exotic, as if they are a luxury and not a right. Make space for yourself. Take your time. Clear a path to the patio for some unforgettable moments of perfection.
About EP Henry®
EP Henry®, the oldest American family-owned and operated manufacturer of unit concrete products in North America, provides the highest quality and broadest product offerings in Hardscaping(™). Based in Woodbury, New Jersey, EP Henry manufactures a wide range of paving stone and retaining wall products. EP Henry offers beautiful patio pavers, outdoor kitchen kits, garden wall solutions and more. For more information on EP Henry Hardscape products, visit EPHenry.com or call 800-44-HENRY (800-444-3679).