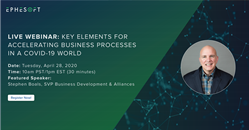 Anyone navigating business process decisions as their organization adapts to challenges resulting from COVID-19 is encouraged to attend.
IRVINE, Calif. (PRWEB) April 21, 2020
Ephesoft, Inc., a leader in content acquisition and data enrichment solutions, today announced that it will host a webinar titled "Key Elements for Accelerating Business Processes in a COVID-19 World" on Tuesday, April 28 at 10 a.m. PT/1 p.m. ET.
Stephen Boals, senior vice president of business development and alliances at Ephesoft, will host the educational webinar, which will touch on the challenges, necessities and options businesses will need to address to survive and flourish in a post-COVID-19 business world.
The webinar will address key lessons learned from this pandemic crisis, common challenges and why organizations are struggling with remote work, unpredictable volumes, worker isolation and overall business flow. Boals will look at several technology solutions, including intelligent screening, capture and robotic process automation (RPA) tools that can accelerate processes and protect companies in our current and future business climates. He will also debut a new intelligent screening application, Transact QuickScreen, which was fast-tracked in development as a response to the pandemic to help accelerate identification forms collection and processing.
Examples will include use cases from healthcare, government and mortgage companies, addressing topics such as HR onboarding for new and furloughed employees, and mobile screening solutions. Webinar attendees will learn how to:

Adapt to high volume intake and document surges
Deploy innovative technology for remote workers to be fully productive
Leverage key point solutions, like rapid screening technology, to free up employees for higher-value tasks
Anyone navigating business process decisions as their organization adapts to challenges resulting from COVID-19 is encouraged to attend. The webinar may be of particular interest to human resource managers, finance and accounts payable managers, hospital administrators and IT professionals, as well as directors of innovation and digital transformation. Here is the link to register:
https://ephesoft.zoom.us/webinar/register/2015869685361/WN_WJpBEFKgTHyqQ1Fdkb22bg. Those unable to attend the live webinar are encouraged to register to receive a recorded version.
Webinar host Stephen Boals has more than 15 years of experience in digital transformation and content management where he has managed projects for Microsoft, Freeport McMoran and other Fortune 1000 companies, as well as the states of California and Louisiana. His broad background includes "Big 4" consulting with Ernst & Young, IT and security management. He is a military veteran who served for over eight years as a Naval Flight Officer.
About Ephesoft
Ephesoft is the leader in Context Driven Productivity solutions, helping organizations maximize productivity and fuel their journey towards the autonomous enterprise through contextual content acquisition, process enrichment and amplifying the value of enterprise data. The Ephesoft Semantik Platform turns flat data into context-rich information to fuel data scientists, business users and customers with meaningful data to automate and amplify their business processes. Thousands of customers worldwide employ Ephesoft's platform to accelerate nearly any process and drive high value from their content. Ephesoft is headquartered in Irvine, Calif., with regional offices throughout the US, EMEA and Asia Pacific. To learn more, visit ephesoft.com.