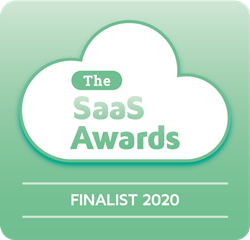 "As organizations seek to reduce accounts payable costs and move more transactions to the cloud, we see a market for highly scalable solutions with quick ROI like Semantik Invoice and are pleased that our industry peers concur." - Ike Kavas, founder and CEO of Ephesoft
IRVINE, Calif. (PRWEB) August 11, 2020
Ephesoft, Inc., a leader in content acquisition and data enrichment solutions, is a finalist in the 2020 SaaS Awards Program in the Best SaaS for Business Accounting or Finance category. Ephesoft was selected as a finalist for Semantik Invoice, a cloud-based data acquisition product shown to improve accuracy and reduce cost for invoice processing.
Now in its fifth year of celebrating software innovation, the Software-as-a-Service Awards program accepts entries from around the world, including the US, Canada, Australasia, EMEA and UK.
"It is an honor to make the SaaS Awards shortlist, as it validates the Ephesoft team's diligent work to deliver innovative SaaS technologies that save companies time and money," said Ike Kavas, founder and CEO of Ephesoft. "As organizations seek to reduce accounts payable costs and move more transactions to the cloud, we see a market for highly scalable solutions with quick ROI like Semantik Invoice and are pleased that our industry peers concur."
Semantik Invoice, released in May 2020, is geared to help finance and accounting departments expedite invoice processing by utilizing knowledge graphs. Built from the ground up on a multi-tenant public cloud serverless architecture, this SaaS solution performs a semantic extraction to invoices, extracting critical invoice data using artificial intelligence / machine learning with 97% accuracy. Semantik Invoice is the first point solution on the Ephesoft Semantik Platform, which turns flat data into context-rich information to fuel data scientists, business users and customers with meaningful data to automate and amplify their business processes.
SaaS technology is continually adapting and innovating. Semantik Invoice is designed to not only help companies be competitive, accelerate processes and cut costs by over 30%, but it is also poised to enable customers to easily adopt new features, functionality and integrate with other solutions in the future as new technology emerges.
"Software-as-a-Service's force for positive disruption never seems to abate, with seemingly unending solutions for modern business," said James Williams, head of operations for the SaaS Awards. "This year is of course a special case, with SaaS not only at the forefront of remodeling existing business processes but also agilely responding with pioneering solutions to unavoidable global disruptions. Indeed, SaaS technologies are now celebrated as providing new and inventive ways for organizations to perform what might have once seemed simple tasks in a changing international landscape. From fulfilling orders to arranging meetings, SaaS technologies are more important than ever."
Final SaaS Awards winners will be announced on Tuesday, August 25, and the program will return in spring 2021. Hundreds of organizations entered, with international entries coming from North America, Canada, Australia, UK, Europe and the Middle East. To view the full shortlist, please visit: https://www.cloud-awards.com/2020-software-awards-shortlist/.
About Ephesoft
Ephesoft is the leader in Context Driven Productivity solutions, helping organizations maximize productivity and fuel their journey towards the autonomous enterprise through contextual content acquisition, process enrichment and amplifying the value of enterprise data. The Ephesoft Semantik Platform turns flat data into context-rich information to fuel data scientists, business users and customers with meaningful data to automate and amplify their business processes. Thousands of customers worldwide employ Ephesoft's platform to accelerate nearly any process and drive high value from their content. Ephesoft is headquartered in Irvine, Calif., with regional offices throughout the US, EMEA and Asia Pacific. To learn more, visit ephesoft.com.
Media Contacts:
For Ephesoft
Kristin Brocoff, 949-400-4899
kbrocoff@thatcherandco.com
Christina Gillham, 646-868-5174
cgillham@thatcherandco.com
For the SaaS Awards
James Williams – head of operations
https://www.cloud-awards.com/software-as-a-service-awards/
james@cloud-awards.com
Notes for editors
About the SaaS Awards
The SaaS Awards is a sister program to the Cloud Awards, which was founded in 2011. The SaaS Awards focuses on recognizing excellence and innovation in software solutions. Categories range from Best Enterprise-Level SaaS to Best UX or UI Design in a SaaS Product.
About the Cloud Awards
The Cloud Awards is an international program which has been recognizing and honoring industry leaders, innovators and organizational transformation in cloud computing since 2011. The awards are open to large, small, established and start-up organizations from across the entire globe, with an aim to find and celebrate the pioneers who will shape the future of the Cloud as we move into 2021 and beyond. Categories include the Software as a Service award, Most Promising Start-Up, and "Best in Mobile" Cloud Solution.
Finalists are selected by a judging panel of international industry experts. For more information about the Cloud Awards and SaaS Awards, please visit https://www.cloud-awards.com/.
Appended: Shortlist
Best SaaS for Business Accounting or Finance

Yooz Inc.
Xero Ltd.
Apiax AG
Sage Intacct
Vena Solutions
VersaPay
Wolters Kluwer TeamMate
Workiva
Ephesoft
Esker Inc.
Avalara, Inc.
Bill.com
Botkeeper
Century Business Solutions
FinancialForce
Ordway
Sage South Africa (PTY) Ltd
Securitize
Tipalti, Inc.