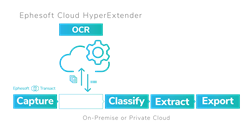 "Financial services and mortgage customers can use Ephesoft Cloud HyperExtender to handle peak processing loads to improve customer satisfaction and efficiency. The hybrid cloud also allows customers to pay only for what they use, without adding servers, maintenance or labor costs." - Ike Kavas
IRVINE, Calif. (PRWEB) March 20, 2019
Ephesoft, Inc., an industry leader in enterprise content capture and data discovery solutions, today announced the company will exhibit its latest technology to help mortgage lenders streamline and accelerate loan document processing during the Mortgage Bankers Association's Technology Solution Conference and Expo 2019 (MBA TECH19), March 24-27 in Dallas.
Ephesoft will demonstrate its newly released Ephesoft Cloud HyperExtender during Tech Showcase Session 1, from 10:30 to 11:30 a.m. on Monday, March 25. The new product will also be demonstrated at Ephesoft's booth #302 throughout the show.
Cloud HyperExtender is an industry-first hybrid solution that provides financial services and mortgage customers with unparalleled scalability and performance for content capture. Organizations experiencing fluctuating demand such as month-end processing can now offload critical, processor intensive activity into the cloud. Ephesoft Cloud HyperExtender seamlessly integrates cloud-based, on-demand processing capacity with existing on-premises or cloud-based deployments. The combination of patented supervised machine learning technology for content classification and extraction with cloud-based OCR recognition ensures documents, and the data they contain, are exported to business systems quickly. Organizations can optimize their existing on-premises systems by increasing processing up to 2,500 pages per minute in the cloud – more than 10 times faster than a strictly on-premises version.
"We continue to develop innovative technology that solves real problems for our customers who are challenged daily with balancing the need for speed, accuracy and efficiency while managing hundreds of different types of documents," said Ike Kavas, founder and CEO of Ephesoft. "Financial services and mortgage customers can use Ephesoft Cloud HyperExtender to handle peak processing loads to improve customer satisfaction and efficiency. The hybrid cloud also allows customers to pay only for what they use, without adding servers, maintenance or labor costs."
At the Ephesoft booth, attendees can learn about industry case studies, benefits and outcomes of cloud or hybrid-cloud content capture and various financial services deployments. Ephesoft offers a specific industry solution, Ephesoft Transact 4Mortgage, which is pre-trained to classify more than 600 mortgage document types in the cloud. Ephesoft will be joined at the show by partner ibml (booth #508), a global provider of end-to-end information capture solutions. Together, they offer a wide range of use cases addressing industry needs and processes, such as loan qualification, account openings, payment options and document processing to close loans.
"We are excited to join MBA TECH19 alongside our partner Ephesoft. ibml helps mortgage lenders, servicers and investors accelerate due diligence of loans, by rapidly ingesting documents from multiple sources and gaining insight into those documents by extracting relevant information from the loan packages," said Susheel John, vice president, product marketing at ibml. "Our intelligent information capture solution Synergetics is powered by Ephesoft technology that has great innovation built into it that helps our customers deploy and get quick return on investment."
About Ephesoft
Ephesoft, Inc. develops technology that makes meaning out of unstructured data for decision-makers worldwide. Using supervised machine learning and a focus on efficiency and reliability, Ephesoft has crafted the next generation of enterprise content capture and data discovery solutions. Organizations use this power to automate any document-based business processes, improving accuracy, increasing productivity and reducing costs. Ephesoft is headquartered in Irvine, Calif., with regional offices throughout the US, EMEA and Asia Pacific. The company is undergoing rapid growth and has customers in over 50 countries. To learn more, visit http://www.ephesoft.com.