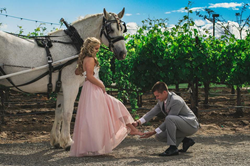 With its rolling hills and gorgeous vineyards, Temecula Valley is an ideal spot to celebrate your love, propose marriage, or steal a kiss.
TEMECULA, Calif. (PRWEB) February 08, 2023
With its fairy-tale vineyards and gorgeous rolling hills, Temecula is a fantastic destination for fun and romance. Couples looking for a memorable experience with a flawless backdrop will find no shortage of amazing places to pop the question or steal a kiss. And with nearly 50 wineries (and counting), most are more than happy to help visitors arrange for a unique and memorable marriage proposal – or wedding. These beautiful places in Temecula are sure to impress:
Maurice Car'rie Vineyards
This gorgeous 75-acre estate vineyard is notable because it was one of the first operational wineries in the Temecula Valley. In addition to its historical charm and beautiful views, its top-selling menu item is Sourdough Bread with Brie, which can be enjoyed on the winery's lovely picnic grounds with a bottle of wine. Another great spot: in front of the barn.
Ponte Winery and Hotel
Pop the question at this beautiful winery, which is surrounded by vineyard views just steps away from its award-winning al fresco restaurant featuring beautiful views and manicured gardens. Ponte Winery also operates a 90-room boutique hotel with elegant interiors, fine amenities, and a relaxing ambiance. Recommended spot: near the beautiful pond.
South Coast Winery Resort & Spa
Resort guests will enjoy a relaxing stay at this 132-room luxury resort which includes a winery, restaurant, hotel, and spa. Each room offers a deep soaking tub, private patio, and fireplace. Enjoy dinner at the resort's Vineyard Rose restaurant or a Couple's Massage at the Grapeseed Spa for extra pampering. Two great places to pop the question: along the Serenity Path or in the private gazebo near the back of the property.
The New Inn
For luxury at its finest in the heart of Temecula Valley Southern California Wine Country, the New Inn offers five exclusive, uniquely designed villas with names like "Endless Love," "Modern Romance." Guests will enjoy breathtaking views from private patios. Take advantage of in-room dining and propose in one of the Inn's luxurious private rooms. White linens, candles, and flowers are included.
Up, Up and Away in a Beautiful Balloon
Proposing in a hot air balloon over rolling hills and lush vineyards makes for an incredibly memorable proposal. It's a good idea to inform the pilot and crew ahead of time and be careful not to drop the ring over the side!
Rose Haven Heritage Garden
This beautiful garden sits on 3-1/2 acres and is home to approximately 2,000 roses: hybrid teas, floribundas, climbers, and mini roses. It is beautiful any time of year, but April and May offer the most colorful blooms. Located just a few miles south of Old Town Temecula, this romantic rose garden has several wonderful spots for proposals or small wedding ceremonies, including a hillside gazebo with panoramic views.
Harveston Lake
Harveston Lake Park is picturesque, charming, and tranquil, and a fabulous place for an afternoon or sunset proposal. The community's Lake House is a private facility for residents and guests, but there is plenty of space for the public, as well. Visitors can pop the question beneath a beautiful open-air gazebo, while enjoying a lakeside picnic, or on a rented pedal boat,
Temecula Carriage Company
A private horse-drawn carriage allows you to enjoy the vineyards, get off the beaten path, and connect with that special someone. Departing from the Temecula Carriage House, travel to a secluded vineyard setting for your proposal. You also have the option of enjoying a picnic and/or wine: https://www.temeculacarriageco.com/
Vail Lake
For nature enthusiasts and campers, an overnight stay at Vail Lake is magical. Guests can stay in RVs, tents, or deluxe cabins and enjoy a variety of recreational activities on-site. This KOA Campground also offers a café for breakfast, maintained restrooms, lunch and dinner, and a bar serving cocktails and live music. The Vailocity Bike Park offers 25 miles of world-class trails. Why not ride to the top of a hill with a beautiful view and pop that question?
For more choices, plus detailed information about Temecula Valley Southern California Wine Country, visit https://www.visittemeculavalley.com/wine/.
About Visit Temecula Valley
Visit Temecula Valley is the region's official tourism marketing organization and resource for visitors. For more information, visit http://www.visittemeculavalley.com.