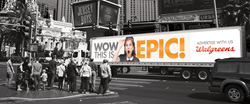 Many of our more than 9,000 Walgreens stores are selectively and purposefully located in the best and most essential Metropolitan areas across the country," said Matthew Rootberg, Sr. Director of Walgreens Boots Alliance. "This significant visibility offers enormous value to advertisers.
LAS VEGAS (PRWEB) May 18, 2021
EPIC Worldwide, the country's leading fleet advertising company, today announced they are partnering with Walgreens Inc. (Nasdaq: WBA) to co-brand and advertise on Walgreens vast fleet of trucks nationwide. EPIC will work on behalf of Walgreens to reach out to advertisers offering the opportunity to advertise on the sides of the Walgreens fleet, raising the standard for out-of-home media. This move makes Walgreens one of the Largest OOH Providers in the Top US Markets.
According to Visual Impression Statistical Type and Allotments (VISTA), a proprietary statistical model for systematically utilizing a wide variety of data sources, just one trailer in a top 10 market receives approximately 50,000 to 87,000 visual impressions per day. This can equate to over one million visual impressions per month, per vehicle. No other media form is able to duplicate this daily visibility.
Combining the entire fleet of Walgreens' 2,600 vehicles, visual impressions have the potential to soar to over 2.6 billion per month. This partnership with Walgreens will allow EPIC to facilitate the initial launch and manage the on-going program. The 8' tall and up to 53' long trucks will double as moving billboards with the ability for ads to be viewed from both sides of a road.
An added substantial double benefit is that on-lookers may also believe that the advertising vehicle is also delivering a trailer load full of the advertiser's product - allowing the advertiser to leverage the moving medium by increasing its presence. In many cases, truck advertising is the only way to reach certain segments of a large and lucrative consumer population.
"The Walgreens fleet offers a very unique and captive advertising audience driving in traffic, where nobody can turn the page or change the channel – the ad is right outside the car window," said Shelley Smith, President and CEO of EPIC Worldwide. "No consumer avoidance behavior - this is must-see advertising with a captive driving audience seeing ads coming and going. The value of this type of presence cannot be overstated."
EPIC Worldwide does not offer the traditional, typical decal. Unlike other graphics available, the KWIK ZIP graphic system allows advertising images to be zipped on and off trucks in minutes so the truck can be back on the road getting new visual impressions. The KWIK ZIP is both a long-term and short-term graphic solution for the fleet industry. To meet advertising and marketing needs, the KWIK ZIP graphics aim to look like "magazine pages on wheels."
Both companies bring something unique to the table, and when combined, the result will have an even greater impact on both the advertising client and Walgreens as a trusted American brand.
To learn more details, contact EPIC Worldwide at 702-614-1000 or advertisinginfo@epicworldwide.com
About EPIC Worldwide
EPIC Worldwide is a WBENC, certified woman owned business with over two decades of experience in the fleet graphic industry and is the country's leading fleet advertising company.
EPIC Worldwide is a registered trademark of EPIC Worldwide, LLC, located in Las Vegas, Nevada.
EPIC Worldwide is an approved G7 printer.
About Walgreens
Founded in 1901 and headquartered in Chicago, IL., the Walgreens Company has 9,021 operating stores in the United States. Walgreens fleet of 2,600 trailers deliver daily in these major geographical locations.