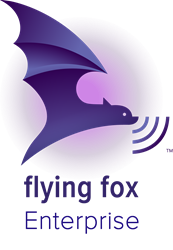 ROLLING MEADOWS, Ill. (PRWEB) June 02, 2021
Epiq Solutions, a company trusted by the DoD to provide software-defined radio (SDR) tools for mission-critical situational awareness, today announced that its Flying Fox® Enterprise rogue wireless device detection system has been approved as a Cybersecurity Tool (CST) and is now available on the Department of Defense's Information Network Approved Products List (DoDIN APL). Flying Fox Enterprise is an innovative security solution designed to support compliance with portable electronic device (PED) policies including DoDD 8100.02, AR 380-28, and DHS MD 11021, among others. It does this by accurately detecting, identifying, and locating threats from wireless devices in secure spaces using always-on, real-time, fully-passive monitoring, geolocation, alerting, recording, playback, device listing, and logging of cellular, Bluetooth® and Wi-Fi® transmissions.
Flying Fox Enterprise was purpose built for the DoD enterprise. This innovative solution interfaces natively with DoD identity services and the DoD PKI for user authentication and key management. The web-based application supports two-factor authentication (2FA) using the DoD common access card (CAC) or other DoD Personal Identity Verification (PIV). All crypto in the system is Federal Information Processing Standard (FIPS) 140-2 certified, and all of its components have been assessed against relevant Security Technical Implementation Guides (STIGs). Flying Fox Enterprise hardware and software are both developed and manufactured in the U. S. to minimize supply chain risks.
The DoDIN APL was created in 2011 to identify solutions that are proven to comply with government security concerns. This master list represents all products available for purchase that are secure, trusted, and approved for deployment within the DoD's technology infrastructure. Companies like Epiq Solutions seeking to have a product listed must pass a lengthy and rigorous evaluation and testing process in order to have their product listed on the DoDIN APL. As an acquisition decision support tool for DoD organizations interested in procuring equipment to add to the DISN to support their mission, the DoDIN APL ensures products have completed Interoperability (IO) and Cybersecurity certification. With its listing on DODIN APL, DOD customers can purchase Flying Fox Enterprise with a high degree of confidence that will allow them to use this cutting-edge technology to monitor their secure areas with "no wireless" policies such as SCIFs, embassies and other secure government buildings, datacenters, courtrooms, and perimeter fences.
Flying Fox Enterprise has its roots in a collaboration between Epiq Solutions and the U. S. Naval Research Laboratory (NRL), and builds on these roots with a fully commercial, integrated, simple to use system that scales from deployable kits to installations covering buildings of hundreds of thousands of square feet. Unlike other "energy-only" detection sensors that are prone to registering false positives, and result in wasted time and cost, Flying Fox Enterprise eliminates false positives using patented RF signal processing techniques, providing government and military personnel with quick, accurate, mission-critical signal identification they can rely on.
"We are honored to support the DoD's APL process and offer our federal government customers a low risk way to enhance their security posture with Flying Fox Enterprise. We believe now more than ever in the importance of the cybersecurity certification provided by the APL to demonstrate compliance with standards and use of cybersecurity best practices," remarked Gary Schluckbier, Director of RF Sensing at Epiq Solutions.
For more information on Flying Fox Enterprise, please visit epiqsolutions.com/rf-sensing/flying-fox/.
About Epiq Solutions
Epiq Solutions develops cutting edge RF tools that provide situational awareness and detailed insight into RF environments to identify and take action against wireless threats. With more than a decade serving government-focused industries, and more than 10,000 software defined radios (SDRs) fielded, Epiq Solutions understands speed, cost, and performance for defense and security applications. Our radically small, state-of-the-art SDR transceiver modules and turnkey RF sensing tools lead the way in minimizing size, weight, and power consumption. Whether the need is to develop mission-critical defense communications for the battlefield or to protect sensitive information in secure areas, Epiq Solutions is the trusted RF solution provider. For more information regarding Epiq Solutions' products and services, please visit http://epiqsolutions.com.
Contacts
Epiq Solutions
sales@epiqsolutions.com
847.598.0218