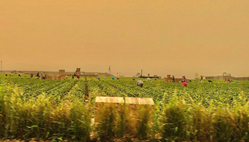 "This wildfire season, combined with the COVID-19 pandemic, has created immense needs in vulnerable communities," said Tamara Plummer, Program Officer, Episcopal Relief & Development. "Our partners are actively finding solutions to meet the unique needs in their communities."
NEW YORK (PRWEB) October 01, 2020
Episcopal Relief & Development is partnering with the Episcopal dioceses of California, El Camino Real, Oregon and Northern California to provide emergency assistance such as N95 masks, food, clothing and shelter to people impacted by the wildfires in the western US.
The state of California has experienced over 8,100 wildfires so far this year, scorching over 3.8 million acres of land, destroying buildings, homes and infrastructure, and causing dangerous air quality issues. More than 1 million acres have burned in Oregon, forcing the evacuation of 80,000 people from their homes. Episcopal Relief & Development's's US Disaster Program staff has been coordinating with partners in California, Oregon and Washington since mid-August as the dioceses monitored the impact of the wildfires in western states and developed response plans to provide assistance to marginalized communities.
"This wildfire season, combined with the COVID-19 pandemic, has created immense needs in vulnerable communities," said Tamara Plummer, Program Officer, Episcopal Relief & Development. "Our partners are actively finding solutions to meet the unique needs in their communities."
The Episcopal Diocese of Northern California is responding with assistance in communities where farmworkers and day laborers have been particularly affected by the wildfires and the economic effects of COVID-19. The diocese has developed a network of mental health professionals who are available for online counseling and support. Clergy and lay volunteers are providing aid in the form of food, gas, clothing, rental assistance and other emergency supplies to bridge gaps as the communities begin to recover.
With Episcopal Relief & Development's support, the Episcopal Diocese of California is distributing N95 masks in the San Francisco Bay area to individuals and families who are marginally housed or without homes and are therefore more vulnerable to COVID-19 and the smoke caused by the fires.
The Episcopal Diocese of El Camino Real is leveraging its connections to local communities to identify individuals and families who have lost their homes, whose homes have been damaged or who have lost income due to the wildfires. Diocesan staff and volunteers are supplying food, and clothing, as well as monetary assistance to cover gas, hotel bills, rent and utilities.
The Episcopal Diocese of Oregon, with Episcopal Relief & Development's assistance, is responding to provide physical and spiritual aid in communities throughout southern and western Oregon. English and Spanish-speaking clergy are offering emotional and mental health services and are assisting people in applying for FEMA benefits. Churches have transformed parish halls into temporary housing, with appropriate COVID-19 protections, to offer shelter to individuals and families who have had to evacuate their homes. The diocese is also distributing food and gift cards to cover emergency expenses such as gas, clothing, cleaning supplies and prescription medications.
"Wildfires are unpredictable and must be contained before communities can begin to respond, so it often takes longer to reach the recovery phase of disasters," continued Plummer.
Learn more about the three stages of a disaster and what you can do. Donations to the US Disaster Response Fund will help Episcopal Relief & Development continue to provide support in communities impacted by disasters, both natural and human-made.
ABOUT EPISCOPAL RELIEF & DEVELOPMENT:
For over 75 years, Episcopal Relief & Development has been working together with supporters and partners for lasting change around the world. Each year the organization facilitates healthier, more fulfilling lives for more than 3 million people struggling with hunger, poverty, disaster and disease. Inspired by Jesus' words in Matthew 25, Episcopal Relief & Development leverages the expertise and resources of Anglican and other partners to deliver measurable and sustainable change in three signature program areas: Women, Children and Climate.