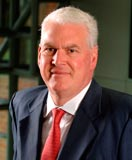 "I realized that people should be in the least medical, least institutionalized setting where they can (still) live safely and comfortably," said Lawrence Gerber.
LEXINGTON, Mass. (PRWEB) November 23, 2021
Ending one chapter in life and starting another can be painful at any age. But many older adults and their families have an especially difficult time transitioning their lifestyles as they grow older.
Moving to assisted living can seem overwhelming. Saying goodbye to a family home is not easy. But the comfort and security and freedom – yes freedom –of moving to assisted living can far outweigh the benefits of living alone.
Today many assisted living communities offer a continuum of care with services ranging from independent living, assistance with activities of daily living, and memory care. This allows residents to stay in a community, even if needs should change over time.
Senior living communities like Waterstone of Lexington in Lexington, Ma. and Waterstone on High Ridge in Stamford, Ct. developed by National Development and Epoch Senior Living, provide older adults with the opportunity to stay close to their friends and families, houses of worship, clubs and community organizations, while also expanding their social circles.
Laurence Gerber, President and CEO of Epoch Senior Living, said that when the company was founded his idea was to make sure that seniors lived their best lives. Epoch's goal is to help seniors live more independent, dignified, high-quality lives, in many cases at lower costs than people pay in traditional, full-nursing facilities. "I realized that people should be in the least medical, least institutionalized setting where they can (still) live safely and comfortably," he said.
As the Baby Boom Generation ages, more and more families will be faced with making the decision on when is the best time to move to assisted living. The fastest growing group of Americans, people over 65 make up 16.5 percent of the population and are expected to reach 22 percent by 2050.
Many seniors want to live in their homes for as long as possible. However, there are certain signs that may indicate it's time to move to assisted living.
Social Isolation
Isolation and chronic loneliness can lead to severe health issues for many seniors. A lack of community can cause depression linked to dementia and heart disease.
Chronic Health Conditions
According to the AARP, more than 70 million Americans age 50 and older have at least one chronic medical condition. With age, these chronic conditions can worsen and without supervision can result in a crisis situation. Often times families limit their options by waiting too long to decide on assisted living.
Financial Problems
Unpaid bills, an increase in collectors, and a growing pile of debt may be signs that it is time to make the move to assisted living. Seniors living on their own can also fall prey to financial scams that can put their retirement savings at risk.
Poor Hygiene
Aging can make some seniors afraid to bathe as nearly 80% of falls occur in the bathroom. Infrequent bathing and laundry, messy hair, dirty nails, and bad body odor all may indicate it's time to seek assisted living.
Social Setting with Comfort of Care
Waterstone assisted living can help remove the burden of cooking, housekeeping, transportation and more and provide a wide variety of amenities, services and cultural program offerings, plus 24-hour access to personal care. Waterstone of Lexington and Waterstone on High Ridge is equipped to help residents manage activities of daily living including bathing, dressing, mobility, continence, eating, and personal grooming.
And if assisted living does not provide enough support, Waterstone's continuum of care also offers a memory care options.
Those diagnosed with Alzheimer's disease or other forms of dementia can receive the best possible support at Bridges® by EPOCH available at Waterstone of Lexington and Waterstone on High Ridge and other Waterstone properties. Bridges® provides a highly trained and compassionate Memory Care team alongside thoughtful programming, purposefully designed open spaces and delightful dining.
Whether it's Independent Living, Assisted Living or Memory Care, the care provided in today's senior communities empower seniors to thrive, to pursue new passions, and to create the retirement of their dreams.