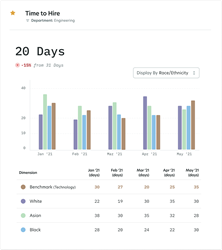 Claro provides excellent benchmarks, and their goal of empowering organizations with data is aligned with ours.
NEW YORK (PRWEB) November 02, 2021
Today, eqtble, Inc. announces its innovative Diversity talent intelligence platform, designed to help companies quickly and easily understand HR metrics. In partnership with Claro Analytics, eqtble provides real-time external talent market benchmarking – to help businesses make better decisions, and retain their top talent. By combining internal HR data with real-time external Diversity benchmarking, eqtble has immediately established itself as the leading provider of total talent intelligence insights.
The partnership between eqtble and Claro positions eqtble as the world's first unified platform that combines internal Diversity data with external labor market data. Companies can now use eqtble to see how they rank in their industry, with the click of a button.
The shift to work-from-anywhere has increased competition for talent. During The Great Resignation, companies want to get ahead of attrition, compensation, and employee engagement issues. Using data to stay competitive has become vitally important.
Joseph Ifiegbu, President and CEO of eqtble, said, "I'm thrilled to announce that our customers can easily see how they compare to different organizations in their industry, all within our tool. Claro provides excellent benchmarks, and their goal of empowering organizations with data is aligned with ours. We're so excited to deliver even greater insights to our customers."
Claro and eqtble represent a new breed of HR analytics platforms. These best-in-class solutions have low-code and no-code integrations, use real-time talent intelligence, and provide immediate return on investment.
With eqtble, companies can easily and quickly improve Diversity, reduce time to hire, and reduce voluntary employee attrition – which according to Gallup, costs U.S. business more than $1 trillion annually.
Michael Beygelman, CEO of Claro Analytics added, "Data has become the new currency for forward-thinking organizations to help hire and retain Diverse talent. eqtble has the right platform at the right time." Beygelman continued, "The synergies between our two firms have resulted in a unique people analytics user experience – one that solves real-world business challenges today, off the shelf, with low barriers to buy and implement."
For additional information about the eqtble platform, please visit https://eqtble.com.
About eqtble
Eqtble is the world's first talent intelligence platform on a mission to help companies hire and retain Diverse talent. By quickly and easily integrating myriad disparate HR systems, eqtble enables actionable organizational insights through a unified view of mission critical talent data. Companies are using eqtble to understand their DEI, engagement, attrition, and hiring, all within a single platform built with the end user in mind.
About Claro Analytics
Claro is the world's first Talent Intelligence platform for non-coders. Leading organizations rely on Claro to gain real-time insights about who's hiring, current salaries, and talent location strategies. Job Seeking Sonar™ helps companies do attrition modeling and retain employees, while Diversity Analytics helps companies improve D&I and do external benchmarking.