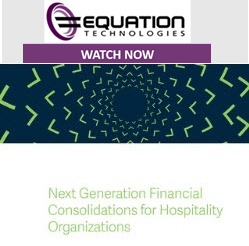 We created our Hospitality Accounting Software resource center to help educate CFOs, controllers, investing partners, property managers about the latest automation tools available to facilitate growth and increase profits," says Erica Burles, President of Equation Technologies.
SAN DIEGO (PRWEB) January 09, 2020
Equation Technologies launches a hospitality software resource center to help financial managers in hotel management and hospitality companies learn how to get things done faster and smarter using automated multi-entity hospitality software.
Multi-entity hotel management companies need multi-entity hospitality software automation to view real-time information for specific properties and locations, departments, etc. Most start-ups or smaller hospitality companies use multiple applications to manage their business. For example, they may use an application to run the hotel side of the business, a construction application to manage the construction of new properties and/or a reporting application to consolidate reports across the other applications. As you grow, it becomes increasingly time-consuming to manually synchronize the data between multiple systems and locations. Growing hotel management companies need hospitality software automation to view information for specific properties and locations. Hotel management companies may need to consolidate the management of hotel stores, casinos, and other entities with real-time consolidated financial and analytical data. CFOs, controllers, investing partners, property managers and employees need various levels of access with finely tuned permissions. It is important for the right people to have real-time visibility into current inflows, outflows, and revenue streams. Integrated payroll, attendance, and payments must be available in the multi-entity hospitality software.
When multi-entity hospitality management companies outgrow entry-level software like QuickBooks they require more modern, cloud-based financial management. Hospitality companies require ease of use, straightforward customization, rich reporting, and affordability. Integrations with other hospitality software like ResortSuite to drastically shorten consolidations. Multi-entity hospitality software enables users to consolidate hundreds of entities without logging in and out. Users are able to quickly slice-and-dice data using real-time dashboards and virtually eliminate the need to build spreadsheets.
Equation Technologies created the hospitality software resource center for restaurant franchisees, multi-entity fitness clubs, multi-entity hotel chains, short-term multi-entity rental management companies, dining, and catering service companies. The hospitality software resource center offers a library of information for these companies to learn about tools to consolidate accounting across complex entity structures to reduce errors and increase profits with hospitality accounting software automation.
About Equation Technologies
Equation Technologies provides business management solutions for mid-sized companies. By making carefully crafted recommendations from among the industry's best-performing ERP software, Equation Technologies concentrates its efforts on financial based solutions through internal collaborative areas of expertise and working with industry-recognized and certified third-party IT specialists including Automatic Data Processing, Inc. and UPS.