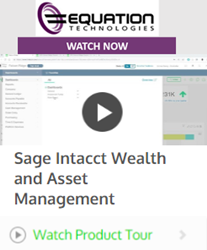 "We are proud to offer our Wealth Management Accounting Software resource center to help educate wealth managers about the latest automation tools available to facilitate growth and maintain a strong successful practice," says Erica Burles, President of Equation Technologies.
SAN DIEGO (PRWEB) January 09, 2020
Equation Technologies launches a wealth management accounting software resource center to help wealth management practices improve productivity and maintain compliance with robust reporting, workflow automation and remote access to critical information 24 hours per day, 7 days per week.
Wealth management is complex. Wealth management practices count on the ERP software implementation experts at Equation Technologies to cut costs and streamline business processes. The wealth management accounting software resource center is an educational library created specifically for wealth management managers to learn how to manage consolidations across multiple business entities, gather analytics quickly, create automated internal controls and documentation so that wealth management practices are audit-ready, share dashboard analytics instantly across entities, track real-time financial data including P&L, maintain GAAP compliance with front-to-back office collaborative audit trails, budget vs. plan, and cash flow.
Investment management professionals who manage complex business entities need complete visibility across all operations with simple ways to analyze data. Wealth management accounting software simplifies complex reporting and quickly aggregates financial information across investment portfolios. Investment managers oversee their client's real estate, equity investments and various businesses. They need to access real-time data and share reports across multiple entities, track financial data including P&L, budget vs. plan, and cash flow.
Equation Technologies created the wealth management accounting software resource center for asset management firms, multi-family offices, private equity firms, real estate investment firms, single-family offices, venture capital firms, wealth management firms, and fund management firms. The wealth management resource center offers a library of information for these firms to learn about tools to consolidate accounting across complex entity structures to reduce errors and increase profits with wealth management accounting automation.
Equation Technologies offers world-class hosted services, cloud-financial security built on the highly reliable Oracle database infrastructure, helping to ensure wealth management portfolio managers can access information at any time of the day, every day of the year. Data-security measures include full daily backups to multiple locations, continuous backups of transaction data and secure streaming of transaction data to a remote disaster recovery centers.
About Equation Technologies
Equation Technologies provides business management solutions for mid-sized companies. By making carefully crafted recommendations from among the industry's best-performing ERP software, Equation Technologies concentrates its efforts on financial based solutions through internal collaborative areas of expertise and working with industry-recognized and certified third-party IT specialists including Automatic Data Processing, Inc. and UPS.