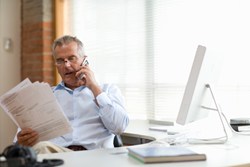 It is worrying when an unexpected large bill arrives but missing the payment deadline is the worse thing to do
(PRWEB UK) 1 August 2013
Mobile and smart phones are now an integral part of our everyday lives. But, as a result, there is a risk that, if consumers don't keep an eye on their usage, they could find their monthly bills running out of control, putting them in unexpected debt. Although pay as you go phone deals do not show, monthly mobile phone contracts do appear on an individual's credit report, just like mortgages and loan and credit card agreements, which is why Equifax, the leading credit information provider, is reminding consumers of the importance of monitoring mobile phone payments and paying bills on time.
"It is worrying when an unexpected large bill arrives but missing the payment deadline is the worse thing to do," advises Neil Munroe, External Affairs Director for Equifax. "Consumers must take mobile phone contracts as seriously as they do their commitments with credit providers. Any missed payment on their credit report could affect their ability to obtain new credit.
"However, research we have conducted suggests that consumers think mobile phone late payments will have less effect on their credit score than other late payments on their finance commitments. But this may not be the case."
Equifax research has shown that more than half of consumers (61%) believe that if they are late on one month's mobile phone payment, this will have the least effect on their credit status. However, unfortunately, this is not always the case. A late payment on any commitment whether it is a credit agreement or a mobile phone contract could be viewed by a lender as a possible indication of over indebtedness which may, in turn, mean they decline a new credit application.
"The reality is that different lenders apply different criteria to their credit scoring for new loan applications", explained Neil Munroe. "So it's important that all credit agreements and other financial commitments such as mobile phone contracts are kept up to date.
"To make sure mobile phone payments aren't missed, it might make sense to set up a direct debit. And if someone does face financial difficulties, we recommend they talk to their mobile phone provider straight away. It's much better to be honest about potential payment delays than bury your head in the sand."
Equifax also advises consumers to check their credit file before applying for new credit, to ensure all credit payments are showing as paid and any closed accounts are shown as settled. Knowing exactly what a lender will view on their credit report will give consumers the ability to make sure they are in the best position before they apply and can provide any additional information needed in their actual credit application.
The Equifax Credit Report is accessible for 30 days free simply by logging onto our website. If customers do not cancel before the end of the 30 Day Free Trial, the service will continue at £9.95 per month, giving them unlimited online access to their credit information and weekly alerts on any changes to their credit file. It also includes an online dispute facility to help them correct any errors on their credit file simply and quickly.
About Equifax
Equifax is a global leader in consumer, commercial and workforce information solutions, providing businesses of all sizes and consumers with information they can trust. We organize and assimilate data on more than 500 million consumers and 81 million businesses worldwide, and use advanced analytics and proprietary technology to create and deliver customized insights that enrich both the performance of businesses and the lives of consumers.