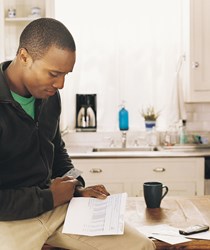 The risks of identity fraud are being highlighted during National Identity Fraud Prevention Month as part an annual awareness campaign called 'Don't let it be you'
(PRWEB UK) 8 October 2013
• 36% of consumers believe they are most at risk from identity fraud; 35% worried most about online fraud; 29% concerned about credit card fraud

58% believe their risk of fraud has increased over the past 12 months
77% believe fraudsters have become more sophisticated
For 37%, being online more is what they believe puts them at greater risk of fraud
91% check their bank statements on a regular basis and 72% shred personal documents
According to the latest research* from ID fraud expert, Equifax, over a third of consumers (36%) believe that they are most at risk from identity fraud, compared to online or credit card fraud. And the majority (58%) believe that their risk of fraud has increased over the past 12 months, particularly as fraudsters appear to be getting more sophisticated. These new figures, released to coincide with National Identity Fraud Prevention Month, show that fraud remains a very real risk for the finances and identity of consumers although the efforts of public and private sector organisations to educate about the risks appears to be improving awareness and, therefore, the precautions being taken.
When compared to research** carried out by Equifax in 2010, it appears that the fear of ID fraud has slightly decreased – from 40% in 2010. However, the fear of online fraud such as 'phishing' has increased quite significantly. In 2010 just 24% of consumers said this was their biggest concern, compared to 35% in 2013. Concern about credit card fraud has decreased slightly in 2013 to 29% compared to 36% in 2010.
The new Equifax research also highlights greater awareness of the precautions that need to be taken to prevent and spot potential fraud. Nearly all respondents (91%) said they check their bank and credit card statements regularly and 72% shred personal documents. There is also a much greater understanding of the risk of fraud through the use of smartphones and social media now than in 2010. 64% of respondents to this year's survey said that they have a passcode or password for their smartphone, compared to just 31% in 2010.
"It is great to see that individuals are taking big steps to protect themselves from identity fraud, with efforts taken over the last few years through campaigns like National Identity Fraud Prevention Month appearing to improve awareness and understanding of this invisible crime", said Neil Munroe, External Affairs Director, Equifax. "But just as respondents to our research suspect, fraudsters have become more sophisticated and that means consumers need to be cleverer about protecting their identity and financial information too.
"We were particularly surprised to see that nearly a third (31%) of respondents said they post information on their social media sites when they are on holiday. This type of behaviour, particularly common amongst younger people, opens up so many chances for a fraudster. Also, when changing their mobile phones, 32% would give the old phone to a friend and 14% would sell it online. Although it may not be their first thought, people need to think about where the data on an old phone goes and how this could get into the hands of fraudsters."
The risks of identity fraud are being highlighted during National Identity Fraud Prevention Month as part an annual awareness campaign called 'Don't let it be you,' which is urging heads of households to be aware of the impact of personal identity fraud on the wider family.
"There is no question that new technology has made so many parts of life easier and more convenient, but with those benefits needs to come more vigilance about what personal information is shared online, with whom, and how" added Neil Munroe. "We advise individuals to keep all their passwords to themselves and not even give them to their partners or other family members. We also recommend that individuals check their credit report on a regular basis to ensure that no unauthorised activity has taken place.
The sophistication of online frauds and scams increases by the day, so it's vital consumers understand the value of their own information and take precautions to keep ID fraud at bay."
The Equifax Credit Report is accessible for 30 days free simply by logging onto our website. If customers do not cancel before the end of the 30 Day Free Trial, the service will continue at £9.95 per month, giving them unlimited online access to their credit information and weekly alerts on any changes to their credit file. It also includes an online dispute facility to help them correct any errors on their credit file simply and quickly.
*Equifax Identity Fraud Survey, conducted amongst 928 Equifax Personal Solutions customers, September 2013
**Equifax Identity Fraud Survey, conducted amongst 1081 Equifax Personal Solutions customers, September 2010
About Equifax
Equifax is a global leader in consumer, commercial and workforce information solutions, providing businesses of all sizes and consumers with information they can trust. We organize and assimilate data on more than 500 million consumers and 81 million businesses worldwide, and use advanced analytics and proprietary technology to create and deliver customized insights that enrich both the performance of businesses and the lives of consumers.