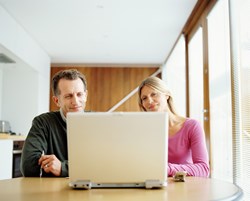 The breakdown of a relationship is a very painful time for those involved but going through shared finances and debt needs to be a priority for both partners
(PRWEB UK) 23 August 2013
A mortgage in joint names, a joint bank account, credit card or loan with a partner, means that a couple's credit reports may show them as financially linked. When either applies for credit, this could result in a lender looking at the partner's credit information as well as their own. When everything is fine between you and your partner this may not be a problem, provided of course their credit file is as good as yours.
But what happens when a relationship breaks down? Leading credit information expert, Equifax, is encouraging couples to remember that if they separate or divorce, they need to ensure they financially disassociate their finances too. Or they could both risk facing challenges when trying to get new credit in the future.
"The breakdown of a relationship is a very painful time for those involved but going through shared finances and debt needs to be a priority for both partners," advises Neil Munroe, External Affairs Director at Equifax. "If there are joint financial agreements showing on their credit reports, although no longer together, lenders might still look at the ex-partner's credit history when deciding whether or not to grant new credit.
"Any outstanding debt in joint names will need to be settled before an account can be closed. Once you no longer have any outstanding shared credit agreements, you can ask the credit reference agencies to disassociate you from partner so there is no financial links to them shown on to your credit file."
The importance of separating finances was clear to Equifax customer and Sun reader, Joanne Clifford when she separated from her husband, "We still have a mortgage in both our names but knowing that my ex-husband's credit history could potentially affect my own finances in the future, I thought it was important for me to check my credit report. I'm now disassociating myself financially from him and will be regularly checking my credit report in the hope of soon being able to get a mortgage by myself."
"We believe Ms Clifford is taking the correct action to ensure she is in the best position before she starts applying for new credit in her own name," continues Neil Munroe. "We advise anyone in similar circumstances to proactively monitor their credit report and finances. If they are no longer financially connected with someone, they need to make lenders aware."
You can obtain a copy of your Equifax Credit Report, which is accessible for 30 days free, simply by logging onto our website. If customers do not cancel before the end of the 30 Day Free Trial, the service will continue at £9.95 per month, giving them unlimited online access to their credit information and weekly alerts on any changes to their credit file. Equifax offers an online free of charge dispute service for individuals to raise any queries about their credit file including requesting any disassociations.
About Equifax
Equifax is a global leader in consumer, commercial and workforce information solutions, providing businesses of all sizes and consumers with information they can trust. We organize and assimilate data on more than 500 million consumers and 81 million businesses worldwide, and use advanced analytics and proprietary technology to create and deliver customized insights that enrich both the performance of businesses and the lives of consumers.