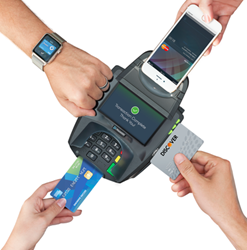 Our Smart Terminal provides instant EMV certification for developers and reduces the complexities of PCI certification, said Randy Modos, president, PayJunction
Scottsdale, AZ (PRWEB) May 17, 2016
Equinox Payments ("Equinox"), the leading provider of payment terminals, applications and support services, and PayJunction, the premier provider of payment gateway and merchant services, today announced the launch of PayJunction's Smart Terminal, a semi-­integrated solution that connects PayJunction's cloud-based REST API with the Equinox L5200 terminal to seamlessly process in-­person payments. Together, Equinox and PayJunction have eliminated the lengthy and painstaking process of EMV Level 3 certification.
Free to qualified customers, the Smart Terminal not only allows businesses to process EMV chip cards, traditional mag­stripe cards and contactless payments like Apple Pay; it also supports advanced features including signature capture and digital receipts. For the first time, third-party software developers can integrate all types of payment in just a few hours, rather than months, using PayJunction's API. In addition, developers can leverage PayJunction's existing PCI and EMV certification to limit or possibly negate annual audits altogether.
"We have made payments simple for developers again. Our Smart Terminal will limit PCI scope and provide instant EMV certification for developers so they can focus on what they are best at: building amazing software. Let us handle the rest," said Randy Modos, President, PayJunction. "The integration specialists at Equinox worked closely with us to develop a unique semi-­integrated solution that reduces the complexities associated with PCI & EMV compliance."
Sharing his thoughts on the collaboration, Rob Hayhow, Vice President, Equinox said, "We enjoy working with innovative partners like PayJunction, especially when our solutions help redefine the payment experience and generate significant value for their customers." Hayhow continued, "The development of the PayJunction Smart Terminal solution underscores the ingenuity of our software development team."
Adoption has been swift, with PayJunction installing more than 3,000 Smart Terminals to date and demand surging daily. For businesses interested in this new solution, PayJunction offers API documentation, free Smart Terminals and developer support at http://developer.payjunction.com
About PayJunction
Founded in 2000, PayJunction has spent the past 15+ years pioneering new ways to make payment processing easier, more secure and effective.
As the most comprehensive developer of paperless payment software, PayJunction's technology replaces paper receipts with electronic signatures, facilitating increased productivity and reducing costs for small and medium sized businesses. More importantly, PayJunction has played an integral role in mitigating the carbon footprint of an entire industry.
The foundation of PayJunction's brand has always centered around being a generational tech company, valuing integrity and long­term relationships over short­term profit. For more information about PayJunction, please visit http://www.payjunction.com.
About Equinox
Brookfield Equinox LLC (dba Equinox Payments) was founded in 2014 as a result of an acquisition of assets from Equinox Payments, LLC. Located in Scottsdale, Arizona, Equinox is looking beyond product features to rethink and reimagine the customer payment experience.
Leveraging 35+ years of payment industry innovation enables Equinox to provide experienced "last mile" support for the wave of innovative new payment technologies sweeping the payments industry.
The company is owned by NBS Payment Solutions, based in Toronto, Canada and a leading provider of electronic payment solutions to the financial industry for over 25 years. NBS Payment Solutions is a wholly-­owned subsidiary of Brookfield Asset Management, a global asset manager with over $225 billion of assets under management. For more information about Equinox Payments, please visit http://www.equinoxpayments.com.