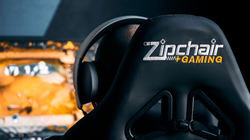 "It was important for us to partner with a highly regarded company in this space," said Chad Ford, president of Equinox Esports. "We recognize our athletes are constantly needing comfortability, support and longevity for their chairs, and Zipchair checked all those boxes including value."
OKLAHOMA CITY (PRWEB) November 17, 2020
Equinox Esports has partnered with DreamSeat LLC and its affiliates, Zipchair and Zipchair Gaming, to bring in DreamSeat Xpression as the official gaming chairs of Equinox.
Equinox's 6,000 square foot facility in north Oklahoma City utilizes DreamSeat's Xpression gaming chairs for player stations, team practice rooms, production rooms and staff offices throughout the facility. Each chair features memory foam pillows, lay-flat recline, 4-D adjustable arms, and DreamSeat's patented XZipit interchangeable logo panel system, which utilizes a hidden zipper to quickly change logos, offering customization for clients, event partners and sponsors in seconds. Equinox's VALORANT team also will compete from the chairs for the remainder of the partnership.
"It was important for us to partner with a highly regarded company in this space," said Chad Ford, president of Equinox Esports. "We recognize our athletes are constantly needing comfortability, support and longevity for their chairs, and Zipchair checked all those boxes including value."
DreamSeat has partnered with the HyperX Esports Arena Las Vegas, Envy Gaming, the Overwatch League, Misfits Gaming Group, Eastern Collegiate Athletic Conference (ECAC) Esports and others, making the brand trusted and highly reputable within the esports industry.
"We have been working with traditional sports franchises for over ten years and have perfected elevating the fan and player experience in regard to all aspects of seating," said David Shickler, Sales Director of DreamSeat. "We are excited to introduce our Gaming Chairs and our patented XZipit system to the many gamers, leagues, and teams to the greater Oklahoma City area and even more thrilled to partner with Equinox Esports."
For more information about Equinox Esports, visit equinoxokc.com and follow @EquinoxOKC.
ABOUT Equinox Esports
Equinox Esports, LLC., is the first professional esports organization to represent the state of Oklahoma. Equinox began development in early 2020 through the vision of founders Chad Ford, Chris Aguilar and Connor Knudsen. The organization is privately backed and powered by an Oklahoma-grown team of professionals with a combined 50 years of experience in the esports, higher education, marketing and cinema industries. The Equinox mission is to cultivate esports athletes, produce quality content and elevate Oklahoma City through esports.
ABOUT DreamSeat
DreamSeat's patented line of XZipit furnishings offer an innovative, high quality, interchangeable logo system that is used throughout its entire product line. DreamSeat specializes in commercial grade furnishings for professional sports teams, universities, firehouses, high schools and corporations. Known for elevating the fan experience, DreamSeat creates custom, premium, VIP and general seating to fit the specific needs of the client, application and venue. Noteworthy clients include the Overwatch League, Nerd Street Gamers & Localhost, Team Envy, Misfits Gaming Group, HyperX Arena/Allied Sports, ECAC, WOMBO Sports, Dallas Mavs NBA 2K team, Miami Open, Cincinnati Reds Premium Diamond Club Seating, Philadelphia Eagles Field Seats, San Diego Padres Suites, Denver Broncos team and film rooms, Texas Rangers facilities, Live Nation Venues nationwide and many more. DreamSeat's affiliate companies, Zipchair and Zipchair Gaming, are online retailers that allows the consumer to purchase the same furniture used by their favorite professionals. Dreamseat, headquartered in Commack, NY, is a family-run business. For more information, visit http://www.dreamseat.com or follow @dreamseat on Twitter and Instagram.
ABOUT Zipchair and Zipchair Gaming
Introduced in 2015, Zipchair and Zipchair Gaming are the retail sites for DreamSeat. Focused on delivering high quality, comfortable and durable fan furniture to the public, Zipchair.com provides the easiest way for the consumers to order the same furniture for their home as seen and used by their favorite teams and athletes. In 2018, Zipchair launched a personalization feature allowing customers to add their name, number or phrase to our licensed logo panels with only a few days lead time. The following year, Zipchair launched Zipchairgaming.com, a retail site dedicated to licensed logo furniture for the gamer. For more information on Zipchair, visit http://www.zipchair.com, follow @zipchair on Twitter and Instagram. You can learn about Zipchair Gaming by visiting http://www.zipchairgaming.com, or @ZipchairGaming on Twitter and Instagram.
Media Contact
Ariel West
Director, Community and Communications
918-527-5114 | ariel@equinox.team