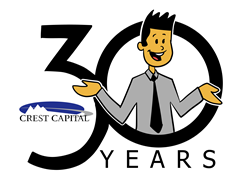 We started out being the fastest and easiest to work with, and we've stayed that way.
ATLANTA (PRWEB) September 12, 2019
Typically, age 30 represents a significant milestone, as it often marks the true cross into maturity. This is true for people, and it's true for businesses as well. And in September of 2019, equipment financing specialist Crest Capital celebrates 30 years in business.
"When we started the company back in 1989, the initial goal was making it 30 months. That's two and a half years, which figured to be a real milestone," stated Crest Capital founder and President Mark French. "So to not only reach thirty years, but to do so with the momentum and track record we've built up is almost surreal. But 'real' it is, and we couldn't be prouder," he added.
When Crest Capital began, they built their equipment financing service around speed and ease, and without extensive paperwork or excessive restrictions, such as blanket liens or minimum bank balances. And those fundamental values proved very popular with the small business community they serve, and remain very attractive today. They also really matter to Crest's vendor partners, who rely on Crest to provide easy, fast financing for their own products.
"We started out being the fastest and easiest to work with, and we've stayed that way," said Crest Capital representative Chris Fletcher. "In the early years, it meant phone, fax, and courier. And while those are still used today, we've invested heavily in having the best technology available. Many clients can be approved and funded in a few clicks. We've also expanded this technology to our manufacturer, distributor, and reseller partners, so they can offer easy, branded financing right on their websites – everyone really likes that," he added.
French echoed the technology sentiment, but also made sure to note that Crest still has a marked "person to person" way of doing business as well. "Over the years, the internet has certainly made everything more efficient, both for our clients and our vendor partners. But we also mix that technology with a dose of old-fashioned personal service. We still answer our own phones, we call our clients to say hello, and if they have questions, we work with them to make sure they get the right loan structure for their needs. And the number of happy clients and repeat business we get tells us we're doing something right. Can we do another 30 years? I don't see why not!" said a smiling French.
About Crest Capital
Since 1989, Crest Capital has provided small and medium-sized businesses with quick, no-hassle financing for business equipment, vehicles, and software, and is also a trusted credit partner for equipment sellers. To learn more about them, call (800) 245-1213 or visit https://www.CrestCapital.com.