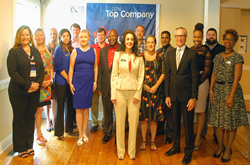 ERA Sunrise Realty wants to ensure that children going back to school will have adequate shoes as the weather gets colder.
Atlanta, GA (PRWEB) September 15, 2017
ERA Sunrise Realty is now an official Soles4Souls drop-off location. ERA will be collecting donated shoes at its various office locations, including 157 Reinhardt College Parkway, Canton, GA 30114; 1642 Powers Ferry Road, Suite 150, Marietta, GA 30067; 115 West Washington Street, Athens, GA 30601; and 104 Warren Road, Augusta, GA 30907. Furthermore, ERA Sunrise Realty will be collecting shoes for Soles4Souls, a nonprofit global social enterprise committed to fighting poverty through the collection and distribution of shoes and clothing, at all of its open house locations during weekends in September for children in need going back to school.
"ERA Sunrise Realty wants to ensure that children going back to school will have adequate shoes as the weather gets colder," said Greg Martin, president of ERA Sunrise Realty. "This basic necessity will allow kids to complete their studies without being chided by their peers."
Soles4Souls aims is to eradicate extreme poverty by 2050. Children every day are prevented from attending school and adults are unable to work as walking becomes unbearable, which perpetuates the cycle of poverty. To date, Soles4Souls has collected and distributed more than 30 million pairs of shoes to those in need in 127 countries around the world and all 50 states in the U.S.
"With the help of businesses and individuals that host donation drives, we can provide a life-changing solution: a good pair of shoes," said Buddy Teaster, President and CEO of Soles4Souls. "Every single one of those pairs of shoes collected by our partners makes a difference in someone's life."
For more information about getting involved with Soles4Souls or to become an official drop-off location, visit https://soles4souls.org/get-involved/.
About Soles4Souls
Soles4Souls disrupts the cycle of poverty by creating sustainable jobs and providing relief through the distribution of shoes and clothing around the world. Headquartered in Nashville, Tennessee, the organization repurposes product to supply its micro-enterprise, disaster relief and direct assistance programs. Since 2006, it has distributed more than 30 million pairs of shoes in 127 countries. A nonprofit social enterprise, Soles4Souls earns more than half of its income and commits 100% of donations to programs. Visit soles4souls.org for more information.
About ERA Sunrise Realty
ERA Sunrise Realty strives to be a life-long real estate partner to its clients. For those moving to the Greater Metro Atlanta, Athens or Augusta, GA area, it offers premium relocation services that will take the stress out of changing homes. For those looking to grow their business ventures, ERA Sunrise Realty brings dedicated commercial real estate experts that can advise you in all your commercial real estate interests. For more information, please call (770) 720-1515, or visit http://www.erasunriserealty.com.
About the NALA™
The NALA offers small and medium-sized businesses effective ways to reach customers through new media. As a single-agency source, the NALA helps businesses flourish in their local community. The NALA's mission is to promote a business' relevant and newsworthy events and achievements, both online and through traditional media. The information and content in this article are not in conjunction with the views of the NALA. For media inquiries, please call 805.650.6121, ext. 361.