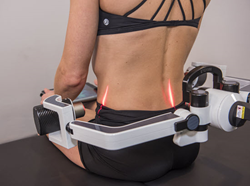 Erchonia has dedicated the past 25 years to researching solutions for chronic pain. As rewarding as the FDA clearances have been, to now see the data combined into one research article puts into perspective what Erchonia has accomplished. This is the gold standard of laser therapy research.
MELBOURNE, Fla. (PRWEB) December 01, 2020
Erchonia Corporation, the World Leader in low level laser technology, became the first and only laser to receive U.S. Food and Drug Administration (FDA) 510(k) clearance for the temporary relief of nociceptive musculoskeletal pain, in June 2019. 510(k) #K190572
The results of the clinical trials submitted to the FDA can now be found in the Orthopedics and Rheumatology Open Access Journal (Peer-reviewed Medical Journal). Article title "Efficacy of 635nm Red Low-Level Laser on Nociceptive Musculoskeletal Pain Compared to NSAIDS, Opioids, and Other Light Sources" Click Here for full article
The article includes data from (5) Level 1, double-blind, placebo-controlled clinical trials and (1) non-inferiority trial, with a total of 419 subjects. The assessed treatment areas include chronic neck and shoulder pain, low back pain and heel pain caused by plantar fasciitis.
Musculoskeletal diseases affect more than one out of every two people in the United States age 18 and over, and nearly three out of four age 65 and over. For those individuals, there is considerable impact on expense and daily life, as the yearly cost per patient with a musculoskeletal disease is $7,800 and nearly 364 million lost workdays, which is an average of 10 days per worker.
The most common treatment for musculoskeletal pain is Nonsteroidal anti-inflammatory drugs (NSAIDS). However due to side effects which attribute to as many as 107,000 hospitalizations and 16,500 deaths annually in the United States, the FDA states the use of NSAIDs should be used at the lowest effective amount for the shortest possible time. While short-term use of NSAIDs is appropriate in acute injuries, it is not an ideal treatment for chronic pain as the analgesic effect generally last no longer than 4-6 hours.
Erchonia provides an FDA cleared alternative, that is proven safe and effective. The substantial evidence which is now publicly available in the Open Access Journal, shows a reduction in pain of 45% directly following the Erchonia laser treatment(s). The results compare favorably to an article published in The Journal of the American Medical Association which showed NSAIDS and Opioids reduced chronic pain by 25% and 21% respectively. Remarkably, the pain relief provide by the Erchonia did not rapidly diminish, in fact following 2-4 months post treatment the pain reduction continued to improve to 61% and 73% at 12 months post.
Equally important as the reduction in pain, the published article documented changes in disability indexes; including the Oswestry Disability Index (ODI), which is considered the 'gold standard' for measuring disability and quality of life (QoL) impairment for adults with low back pain. In each condition treated there was a significant improvement in the patient's disability, which can play a direct role in normal daily activities and returning to work.
The article also details the laser fundamentals (wavelength, power, coherence) that must be met to achieve an effective treatment. While other light/laser manufactures may erroneously claim the effectiveness for treating musculoskeletal pain, Erchonia is the only laser to provide blinded & controlled trials and receive FDA marketing clearance.
About Erchonia Corporation
Based in Melbourne, Florida, family-owned Erchonia is the global leader in the manufacturing and development of low-level laser therapy technology ("3LT"). From humble beginnings in a garage in 1996, Erchonia today develops and sells the most advanced, non-invasive 3LT medical equipment on the market in over 50 countries. In fact, Erchonia first low-level laser market clearance in 2002 prompted the FDA to create a new device category: NHN Biostimulation lasers. With 17 different market clearances from the FDA, Erchonia remains passionately committed to effective, research-based 3LT solutions for a wide variety of conditions — from managing chronic pain to promoting fat loss. For more information, please visit http://www.erchonia.com.