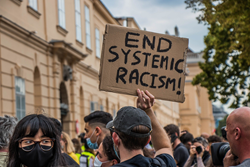 We must acknowledge and fix the structural racism within our profession first, which is why we have to examine those issues during this Summit
NEW YORK (PRWEB) September 11, 2020
On September 16th and 17th in collaboration with the Council for Social Work Education and Salisbury University's School of Social Work, SWHELPER is hosting a two day virtual summit with keynote speakers Gwen Carr and Dr. Steve Perry.
After the cameras leave, what happens to these families? Are they connected to mental health counselors for trauma and grief support? Are they constantly being asked to retell the moment in time that changed their lives forever? Is their trauma becoming a form for entertainment or trauma porn to satisfy our need to have a behind the scenes look while forcing them to relive the horrific incident over and over again?
On day one, Gwen Carr, mother of Eric Garner who died in a chokehold by police, will present on "Developing Empathy and Understanding for the Trauma, Grief, and Loss of Families Impacted by Violence." Gwen's session will examine the aftermath of a family affected by the killing of an unarmed black man by law enforcement.
"There is no doubt law enforcement and policing needs to change. Is social work the solution...I believe it is, but we must acknowledge and fix the structural racism within our profession first, which is why we have to examine those issues during this Summit," says Deona Hooper, Founder, and Editor-in-Chief of SWHELPER.
.
For the day two anti-racism virtual summit, Dr. Steve Perry (Head of Capital Preparatory Schools) will present and his session is entitled as "Social Work is the Solution." This session will bring to light the role social workers can play in creating a movement.
Gwen Carr is an activist, public speaker, and author. Since her son's death, Carr has become active in police reform which included touring the United States as a Mothers of the Movement and a voice in the Black Lives Matter movement.
Dr. Steve Perry is one of the most sought-after Nationwide Motivational Speakers in America. Widely respected by grassroots community members and internationally renowned leaders as an educator, social worker, and public speaker, his charismatic and compelling voice is an inspiration.
These two powerful speakers will give the Summit's keynote address at the end of each day during the two-day Summit center on anti-racism, advocacy and voting. The summit will offer up to 16 field placement and 13 CEUs hours for social work students and professionals accredited through the National Association of Social Workers (NASW), NASW-New York, NASW-New Jersey.
For more details and registration, please visit - https://globalsocialwelfaresummit.com/.
SWHELPER is a minority and woman's own digital media publication. We provide news, information, and resources to social workers and helping professionals as well as provide information to help individuals and families navigate the systems we implement.