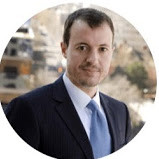 DENVER (PRWEB) October 29, 2018
Today, it was officially announced that Eric Kimberling, the Founder and former Managing Partner of Panorama Consulting, has left the company to start Third Stage Consulting Group. Kimberling is an industry-recognized thought leader and expert, with over two decades worth of experience in the digital transformation and ERP consulting industry.
During his career, Kimberling has been involved in countless ERP and digital transformation projects in over 20 different countries. His industry experience includes manufacturing, distribution, retail, healthcare, entertainment, publishing, and services.
The Inception of Third Stage Consulting Group
"I started Third Stage because I have an uncompromising vision of how we as consultants should deliver value to clients," Kimberling said. "Third Stage prizes several ideals above all others, including independence from software vendors, treatment of clients and team members with integrity, and retention of only the best consulting team."
Since its incorporation earlier this year, Third Stage has signed an impressive roster of new clients – all at various stages of their digital transformation initiatives.
Also joining Kimberling at Third Stage are several colleagues from his time at Panorama. "The team we've assembled at Third Stage is the best I've worked with in my career," Kimberling said. "A lot of consulting firms underinvest in experience to save money, but I don't believe that to be the best answer for clients."
Kimberling's Story: How He Left the Company He Started
Twelve years after starting Panorama, Kimberling realized that he and his business partners had very different philosophies on the direction of the company. However, leaving the company he founded wasn't an easy decision at first.
"I was nervous to leave the company I started and managed for 12 years – and I wrestled with that decision – but in hindsight, it's by far the best career decision I've ever made," Kimberling said. "It has given me the chance to create a highly innovative and flexible approach to consulting and work with some of the world's best clients. I have been able to sleep much better at night knowing that I can now fully focus on my consulting philosophy, instincts, and values."
While at Panorama, Kimberling oversaw the company's thought leadership through his popular blog and white paper series. He now brings this world-renowned thought leadership and insights to his new venture at Third Stage.
Kickoff Celebration of Third Stage Consulting Group
In order to celebrate the launch of the company, Third Stage is hosting an event entitled "Digital Stratosphere ERP" in Denver, Colorado on December 3-5, 2018. This technology-agnostic conference and training event is focused on sharing digital transformation best practices from the industry's leading speakers. In addition, the event features peer networking and a conference suite at the Fleetwood Mac concert at the Pepsi Center.
"There is a deficiency of good, technology-agnostic conference and training options out there, so we launched Digital Stratosphere," Kimberling said. "I've been facilitating ERP Boot Camps and training for 10 years now, but this event takes it to a whole different level."
More information can be found on the event website at stratosphere2018.com.
About Third Stage Consulting Group
Third Stage is a technology agnostic consulting firm. The company focuses on four primary services related to digital transformation and ERP implementations:

Digital transformation strategy
Implementation readiness
Implementation quality assurance and project management
Organizational change management
Third Stage currently works with companies all over the world, including the US, Canada, Australia, Panama, and United Arab Emirates.
Learn more about Third Stage Consulting Group at thirdstage-consulting.com.