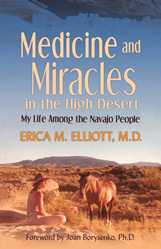 "Medicine and Miracles in the High Desert reveals how diversity and inclusiveness can enrich our own society." - Larry Dossey, MD, author of 'One Mind: How Our Individual Mind Is Part of a Greater Consciousness and Why It Matters'
SANTA FE, N.M. (PRWEB) May 13, 2019
Author, Adventurer, Speaker, Dr. Erica Elliott, M.D. has released a first book that recounts the early years of her extraordinary life --- living among the Navajo people. As a young woman in the early 1970s Erica arrives at a Navajo boarding school to teach, and becomes a student herself of a mystical, earth-centered wisdom that has been lost to most in today's modern world. Reaching across a cultural divide to learn the Navajo language, their world opens up to her. She is embraced by the community and learns their ancient spirit ways.
Years later, Erica returns to serve the Navajo people as a medical doctor in an underserved clinic, performing emergency procedures and delivering babies. When a medicine man offers to thank her with a ceremony, more miracles unfold. This true story of personal risk and high adventure paints a rare, contemporary picture of Navajo life that at once elicits inspiration, deep sadness and respect for the Native American people.
In Medicine and Miracles in the High Desert, Dr. Elliott not only opens up a world that is foreign to many but also brings to light the continued prejudice experienced by Native Americans. "This book is about bridging the cultural divide through efforts to understand and see the world through the eyes of other people — the people who were here first," she explains.
When asked what she aims for readers to take away from the book, Elliott says, "I would like my readers to believe that they too can overcome seemingly impossible barriers of understanding people and cultures that are different from them. I hope that, through my writing, they can experience the exhilaration that comes from opening the heart to the 'other.' I also hope to educate readers about the Navajo way of life, without revealing sensitive information about sacred ceremonies."
"This book is sorely needed at this moment in America, when divisive voices incessantly warn us of the other, the foreigner, those who "are not like us." Medicine and Miracles in the High Desert: My Life Among the Navajo People reveals how diversity and inclusiveness can enrich our own society—a lesson on which our future may depend."
~ Larry Dossey, MD, author of One Mind: How Our Individual Mind Is Part of a Greater Consciousness and Why It Matters
ABOUT THE AUTHOR
A risk taker and a true adventurer, Dr. Elliott is a rock climber and mountaineer. She led an all-woman's expedition to the top of Denali in Alaska, the highest peak in North America, where nearly half of all attempts fail. She has lived and worked around the world, serving as a teacher for Indigenous children on the Navajo Reservation in Arizona and in the mountains of Ecuador. She has taught rock climbing and mountaineering for Outward Bound. In 1993, Erica helped found The Commons, a co-housing community in Santa Fe from which she runs a busy private medical practice. Known as the "Health Detective," she treats mysterious and difficult-to-diagnose illnesses. Erica is also a captivating public speaker and has given workshops at various venues, including the Esalen and Omega Institutes. She blogs about medical insights and stories from her life at http://www.musingsmemoirandmedicine.com.
Available at the Balboa Press Online Bookstore and Amazon
Hardcover | 5.5 x 8.5in | 202 pages | ISBN 9781982220976
Softcover | 5.5 x 8.5in | 202 pages | ISBN 9781982220983
E-Book | 202 pages | ISBN 9781982221058
Review Copies & Interview Requests:
LAVIDGE – Phoenix
Kiersten Woglom
480-998-2600 x 586
kwoglom(at)lavidge(dot)com